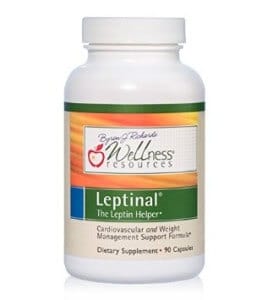 There has been plenty of buzz surrounding Leptinal softgel capsules, so we took it upon ourselves to create an intensive review, examining the side effects, ingredients, clinical studies and overall customer care. We additionally focused on hundreds of customer reviews and dieter responses from the internet. Finally, we wrapped it all up to provide you with the facts you need.
EDITOR'S TIP:
Combine Leptinal with a proven fat burner such as
Leptigen
for better results.
What You Need To Know
Leptinal is a dietary supplement available from Wellness Resources, a company that dates back to 1985. This product contains an interesting ingredient blend of the following; Marine Lipid Oil (1,000mg), Borage Oil (550mg), Pomegranate Extract (200mg), Sytrinol (100mg), Tocotrienols (20mg), Rice Oryza Oil, Beeswax and Extra Virgin Olive Oil. The full dose of Leptinal is two capsules, which should be taken three times daily. According to the official website, this supplement helps in the following ways; promotes cardiovascular health, supports healthy bones and nerves, aids with weight management, enhances thyroid function, encourages healthy blood pressure and promotes healthy cholesterol levels.
From what we could gather, Leptinal has been available since 2010. This supplement can be acquired through the official website, and it uses natural ingredients. Furthermore, convenient contact information is provided on the main website, but read on…
High Price – Yikes!
"The actual cost of Leptinal is $99 for 180 softgel capsules, which is a 30-day supply. You also pay $6.50 for shipping and handling, which makes the total $105.50 per month. This is certainly not affordable for some dieters," says our Research Editor.
One customer said, "Too expensive for what it is. No Thanks!"
"Not worth the $100," said another dieter.
Scroll below for one of the best products we've seen in 2015.
Unproven Ingredients – Another Concern
We did not find any science that links the ingredients used in Leptinal to actual weight loss. Take a look at what one customer stated, "It's a shame, I really thought this would make a difference. I didn't notice any change after using."
Another user said, "Does not work at all, nothing!"
According to our research, if there is a certain part of a weight loss formula or diet program that is especially annoying or concerning (unproven key ingredients, steep price
tag, pills that cause side effects) the chances of real fat loss for the long run are not good. Therefore if Leptinal is too expensive for a lot of dieters, this could be a serious problem.
The Science
While we did find a lot of claims made on the official website, we did not see any actual science or clinical trial research. Therefore we really can't determine if this supplement works as effectively as it's advertised to. At DietSpotlight, we prefer to see documented studies that support the dietary supplement and the ingredients it contains.
The Bottom Line
It's clear that Leptinal is supposed to help the body in numerous ways. While this sounds wonderful in theory, we did not find much concrete evidence to support this supplement. In regards to weight loss, the ingredients used in this product are unlikely to do much good. When you factor in the high cost, Leptinal does not really stand out as a great weight loss option.
For those who need to get rid of more pounds, we encourage you to go with a diet supplement that contains scientifically proven weight loss ingredients and does not break your bank account.
Among the top diet products we've spotted in 2015 is Leptigen. This weight loss pill uses a blend of four ingredients, which have been proven in documented clinical trial research to help increase fat loss and ignite metabolism. Moreover, we can't pinpoint any complaints of negative side effects and user feedback on the web indicates people are seeing excellent results.
Also, the makers of Leptigen are so confident in their product they're offering a special trial offer, which is a good sign.