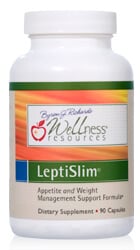 We've heard a little buzz about Leptislim, so we decided to take a closer look at ingredients, side effects, clinical research and customer service quality. We chose to search for dieter comments, in hopes of finding the real story. Then, we condensed and refined to give you the info you need.
What You Need to Know
First off, Leptislim is a weight-loss supplement that has chromium, colostrum, gymnema sylvestre, inula racemosa and vanadium. You're supposed to take one capsules up to three times a day to help you lose more weight, according to the official website. The pills are small enough to take on the go, a positive.
The product, offered by Wellness Resources sometime after 1985, appears to skip the synthetics, a great choice. The official website offers it for sale, as do a few other retailers. We like that the makers of Leptislim have been in the business for 30 years and the price is affordable, but read on…
Dieters Aren't Seeing Results – "A Problem?"
The first issue we found with Leptislim ingredients was ineffectiveness. "The formula for this is simple enough," says our Research Editor. "Sometimes that's the best way to support weight-loss, but only if the supplement is proven to work."
A single review on the product claims, "Used it all up, lost no weight."
Scroll below for one of the best products we've seen over the last year.
Letter from the FDA
In 2005, the FDA sent a letter to Wellness Resources after a visit to the offices. According to the communication, there were multiple infractions, including mislabeling and drug-related claims. It reads, "[your products] are misbranded…because the labels for these products, which contain added iron, fail to bear the…warning statement as required."
Another issue dealt with drug-related or medical claims. Wellness Resources used words like "prevent", "lowers" and "protects." These statements can be made if the FDA has clinically tested and proven a medication, but not in a supplement because they are not regulated by the government.
In our research, we've found there's a solid connection between negative issues, like lack of results, and reduced long-term success. If Leptislim does not promote weight-loss, there are other supplements that will.
The Science – "Effective?"
We found very little information on Leptislim on the official website. No clinical studies are mentioned at all and we didn't find any to speak of. The ingredients in the formula are not typically used for weight-loss, aside from chromium. Wellness Resources doesn't even bother to list testimonials. At DietSpotlight, we take science very seriously. We need to see the research to support a product.
The Bottom Line – Does Leptislim Work?
Well now, our look into Leptislim was eye-opening. The company has been in business for three decades and we like the affordable price, but we are skeptical about recommending a supplement that doesn't come with clinical support. We're also concerned that few dieters have tried the product and the address for the business is in an apartment building.
If the time has come to lose some weight, we suggest going with a supplement that's proven effective. One that's sold by a company with a professional headquarters.
Among the best products we've seen in 2016 is one called Leptigen. We found a four-ingredient proprietary blend with clinical support showing it helps boost metabolism and spark fat loss. There are no reports of side effects and dieters are talking about some pretty amazing results.
Plus, the company responsible for Leptigen is confident in the formula so they're offering a Special Trial Offer, quite the bonus.