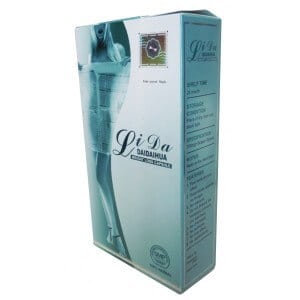 There's quite a bit of talk about Lida Daidaihua, so we checked things out to see if it's worth a try. We looked into the active and inactive ingredients, side effects, customer service and clinical research. Then we looked around the web for customer comments and forum posts to fill us in on what people were saying. Finally, we concentrated and condensed to give you the facts you need.
What is Lida Daidaihua?
First off, Lida Daidaihua is a supplement in pill form containing a mixture of Daidaihua, Cassia Seed Extract, Coicis Extract, Mulberry Leaf Extract, and Medical Amylum. The product claims that taking one pill per day will help you burn fat and boost metabolism, and one bottle of pills has enough for 30 days. One benefit is that it's very easy to use and doesn't require any mixing or bad-tasting beverages.
We can't seem to find any conclusive evidence on the company itself and it isn't listed on Better Business Bureau. The company can be reached with the "Contact Us" option on their website. We like how easy it is to use, and we also find the lack of listed side effects interesting, but read on…
Side Effects – "Synephrine?"
The first thing we had to do was find out about the Lida Daidaihua ingredients. "If you use this product every day as directed, you may notice some boost in your fat burning," said our Research Editor, "but it contains synephrine – a stimulant that may be linked to some negative side effects."
We didn't find any reviews that spoke about Lisa Daidaihua side effects, but research suggests they may include increased heart rate, increased blood pressure, headache, chest pain and others. We also found information that suggested it may not be safe when taken by mouth for weight-loss.
Scroll below for one of the best products we've seen over the last year.
Is Cost Another Concern?
When we first arrived at Daidaihuaus.com, we noticed that the price of Lida Daidaihua was relatively high. Even though buying several packages at once can save some money, a user is looking at $60/month to stay on schedule. While that in itself isn't an extremely high cost for staying fit, we like to look at the value provided by the product to make a judgement call.
Synephrine supplements can be found online starting at $10 per bottle and they typically include at least 60 caps. Mulberry extract starts at $15.00, again for a large quantity, and cassia seeds can be purchased in large quantities for under $20.00. You get the point–consumers may not get a reasonable return on their investment.
Research shows that even one negative aspect to a diet supplement can derail a user's chances of long-term success, and unreasonably high costs certainly count. At $60.00 per month, Lida Daidaihua may not be worth the price tag.
The Science – Legit or Iffy?
Several of the ingredients in Lida Daidaihua have been tied to clinical studies, but according to the National Library of Medicine, synephrine, hasn't been sufficiently studied yet. Besides the lack of data, there are parts of the formula that aren't directly related to weight-loss: cassia seed and Job's Tears are a laxative and anti-diarrheal, respectively. Mulberry purportedly regulates blood sugar levels, and amylum is a starch. There is no clinical evidence to support claims.
The Bottom Line – Does Lida Daidaihua Work?
Lida Daidaihua looked intriguing, if only because we didn't know what daidaihua was. Once we found out that it is simply another name for synephrine, things took a different light. It is essentially a stimulant with some other ingredients that don't cause weight-loss, and that leaves us skeptical about giving it a thumbs up.
If you're ready to shed those extra pounds, there are alternatives. We suggest trying out a product with strong customer support, clinically tested ingredients at a price that won't break the bank.
Among the best products we've seen in 2016 is one called Leptigen. It blends four ingredients in a proprietary formula. These have been scientifically tested and may help to boost metabolism and burn fat. The online reviews from customers who've used the supplement look great.
A Special Trial Offer is currently available (we always like it when a company stands behind their product), so you don't have to put too much on the line to give it a try.