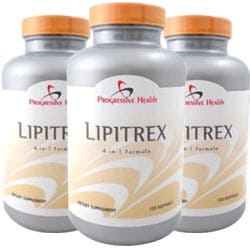 There's been a lot of discussion about Lipitrex fat-burner pills, so we did one of our extensive reviews, scrutinizing the side effects, ingredients, customer care and clinical studies. Moreover, we examined all sorts of user comments and customer reviews from all over the internet. Finally, we wrapped up all the information we found in order to provide you with the important facts and details.
EDITOR'S TIP:
Substitute Lipitrex with a proven fat burner such as
Leptigen
for better results.
What You Need To Know
Lipitrex is a weight loss pill that contains the following; Chromium (100mcg), Guarana Seed (200mg), Citrus Aurantium (100mg), Magnesium (100mg), CLA (1,500mg), Coleus Forskohlii (120mg), PinnoThin (1,500mg) and Green Tea Extract (100mg). This product is made by Progressive Health Nutraceuticals. It sells for $74.95 (one-month supply). As for what Lipitrex does, this supplement is intended to control appetite, boost metabolism, minimize the storage of fat and elevate energy levels. You need to take two capsules each morning and evening for maximum results. Real weight loss results should be evident within 60 days.
Lipitrex initially showed up around 2012 and is sold with a 180-day guarantee. This product does use some natural ingredients and it may help boost energy levels, but read on…
Dangerous Ingredient – Watch Out!
"One of the key ingredients found in Lipitrex capsules is Citrus Aurantium, which contains Synephrine. This is a cousin to Ephedra, the banned weight loss ingredient. Unfortunately Synephrine may lead to increased blood pressure, rapid heartbeat, stroke and even heart attack," says our Research Editor.
"Causes really fast heartbeat and anxiety. Not good!," said one user.
Another commented, "Is this stuff safe, feeling very nervous and jittery after one dose?"
Scroll below for one of the best products we've seen in 2015.
Poor Customer Service
There are some complaints regarding the customer care provided by Progressive Health Nutraceuticals. One customer stated, "I mailed my check for $69.90 on January 19, 2015. This check cleared my bank on March 2, 2015. I haven't received my order yet."
Another person complained, "I sent in $89.90 3 weeks ago and I have NOT any pills!!! What is going on, that is a lot of money for nothing!! Please let me know!"
Our research has revealed if there is one facet of a fat-loss pill or diet system that is quite burdensome (a painful/difficult exercise routine, dangerous ingredients, poor customer service) the probability of prolonged fat loss success is rather low. So, if Lipitrex uses dangerous ingredients and often fails to properly assist their customers, this could be a major issue.
The Science
At this point, there no longer appears to be an official website for Lipitrex capsules. Furthermore, we were unable to locate any real science that supports this diet pill. Considering that Lipitrex contains Citrus Aurantium, we do not encourage people to use this product. At DietSpotlight, we like to see clinical proof pertaining to the diet product, as well as safe ingredients.
The Bottom Line
From what we could tell, Lipitrex does not appear to be sold any longer. This could be due to numerous complaints about poor customer service. However, we are not sure. On a separate note, the Synephrine used in Lipitrex capsules can lead to harsh side effects, and this is why we would not recommend this diet pill.
People who wish to see faster weight loss results, we recommend you try a diet supplement that uses safe ingredients, offers great customer service and is backed by solid clinical trial results.
One of the top weight loss products we've encountered in 2015 is Leptigen. This diet supplement uses four potent ingredients, which have been shown in documented clinical research to ignite metabolism and assist with fat loss. Moreover, we can't find any complaints of side effects and customer responses around the web show people are seeing excellent results.
Also, the makers of Leptigen are so confident in their product they're offering a special trial offer, which is a good sign.