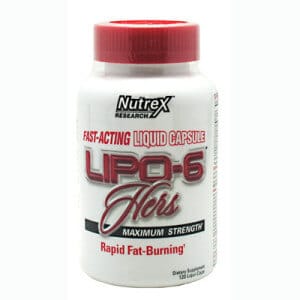 We've seen some promising information about Lipo 6 Hers and decided to take a look a thorough look at the company website, ingredients, and consumer reviews to bring you all of the most important information available about the product.
EDITOR'S TIP:
Substitute Lipo-6 Hers with a proven fat burner such as
Leptigen
for better results.
What You Need to Know
The most important thing you need to know is that this is a supplement that focuses on thermogenesis. Thermogenesis is simply the process of the body generating heat and increasing metabolism, which allows fat to be burned more quickly.
This product originally contained ephedra, which was effective but problematic, and has been replaced with a related substance that hasn't been banned by the FDA. It's also formulated for women, reportedly targeting women's fat zones more effectively, but read on…
Multi-Phase?
The product claims to be multi-phase. This is generally a good attribute because it indicates that the outer portion of the pill will be absorbed quickly and the inner portion at a slower pace. This is great for products you take once a day because the effects last all day. However, the recommended dose is to take up to four pills, which is significantly more than most products supporting increased thermogenesis.
"There doesn't seem to be a benefit to the multi-phase claim, considering the frequency of doses." said our Research Editor.
Scroll below for one of the best products we've seen over the last year.
Ingredients
There are many common fat burning ingredients listed, however, the exact amounts are not given. Ingredients include B-phenylethylamine HCL, methylsynephrine HCL, synephrine HCL, caffeine anhydrous, hoodia gordonii, yohimbine HCL, folic Acid, biotin, sesame seed oil, gelatin, mixed tocopherols, FD&C Red #3, FD&C Red #40, FD&C Blue #1, and titanium dioxide.
Synephrine, B-phenylethylamine, and methylsynephine are mood enhancers and appetite suppressants, similar to the banned ephedra. Hoodia gordonii, while effective, doesn't appear to be used in sufficient quantities to cause the desired outcome.
The Science
Lip 6 Hers does contain ingredients that are recognized as triggering theromgenic responses. However, there is no statistical evidence supporting the combination found in the product is effective. It is unclear that there sufficient quantities of the key ingredients to produce the desired effect.
The Bottom Line
We looked at Lipo 6 Hers because of the promising thermogenesis claims as well as the unusual multi-phase design. After examining the product and reviews, we've concluded that while there are much worse products on the market, there are much better products available.
The best weight loss supplements are clinically tested long before being offered to consumers and the results of those tests are readily available for review. Lipo-6 Hers does not provide any evidence, nor does it provide customer testimonials.
One of the best products we've seen is Leptigen. It's made with clinically proven ingredients known for their weight loss properties. After exhaustive research, we weren't able to find consumer reviews that were unhappy with the product, which suggests dieters are satisfied with their results.
The makers of Leptigen are fully confident in their product. They are giving new customers a special trial offer, which we find reassuring.