Updated: 08/25/2015 - Sponsored by Leptigen
Lipodrops Review - Do These Diet Drops Work?
Are short-term use and lack of effective ingredients deal breakers?
Editor
's Review:
3.5
/ 5.0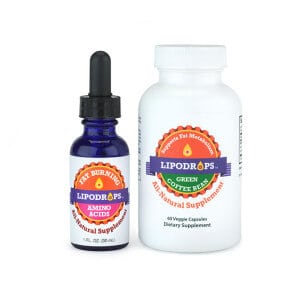 We were wondering about all the talk surrounding Lipodrops. We decided to complete a full-fledged review of the ingredients, customer service department and clinical support. User reviews were also taken into consideration before we pushed out the main ideas to you.
EDITOR'S TIP:
Combine Lipodrops with a proven fat burner such as
Leptigen
for better results.
What You Need to Know
To start, Lipodrops are a diet supplement that works in conjunction with reduced eating and exercise to speed up weight-loss. The drops contain l-methionine, inositol, choline chloride and l-carnitine. Each bottle contains 30 servings and you take the product twice daily, so you only get two weeks out of the deal. You'll pay $80 a month. You can use it on the go, which is one benefit.
We've no idea what company is behind Lipodrops. We know two doctors, Dr. M.J. Collier and Dr. J. Goldklang, formulated the product. We like the ease of use and that fact that physicians are behind it, but read on…
Short-Term Use – Long-Term Results?
There are quite a few reviews on Lipodrops, but the majority only mention using the product for one week to a month. Longer use is not described by dieters. "It's interesting that Lipodrops claims to be safe for long-term use, but no customers use the product for more than a short while," says our Research Editor.
"I took it for one month March of 2013," says one user.
Another dieter wonders about the lack of information, "Can someone PLEASE post results or respond to the dozens of inquiries post week 1??"
Move on down to see one of the best products we've researched in 2015.
Lack of Effective Ingredients
We looked through the ingredient list to see just what all the fuss was about with Lipodrops. L-methionine is found in foods with no connection to weight-loss. Inositol is a B vitamin that may help with anxiety or stress, but that's about it. Choline is similar to inositol and l-methionine in structure and production. It's made by the liver, but it won't likely help you reduce the number on the scale. L-carnitine has been the subject of multiple clinical trials, but none show benefit in this area.
From our experience, all it takes is a small yet significant issue to lessen the chances of long-term success. If Lipodrops are ineffective beyond the first week or so, this is a definite issue for buyers.
The Science
There is no science to back up claims made by Lipodrops. We found it interesting that the supplement was once delivered via injection, before the current formula was created. The doctors aimed to offer the same effects with an oral product. Without clinical proof, DietSpotlight is not apt to support the drops.
The Bottom Line
It's all about the research and after we checked out Lipodrops we were easily convinced one of thing – we can't give this product our support. We're worry that users only try out the product for a short time and the ingredients are not clinically proven. There's also the issue that company information is not available to the consumer.
If you're ready to lose weight right now, our suggestion is a product with a good price and proven scientific support. Customer service and ease of ordering are two additional benefits.
We've read about and researched thousands of products and of those we found Leptigen to be one of the best in 2015. The ingredients are clinically proven to help you reach your weight-loss goals with a boost to metabolism and increased fat loss. Dieters do not mention a single harmful side effect and results are quite amazing, based on user reviews.
When it comes to a company confidence is important and Leptigen makers have that. You're about to try out the product with a free trial offer.
(Feel free to scroll below for our previously published full-length reviews of Lipodrops)
Previous Lipodrops Review (Updated March 18, 2014):
What You Should Know
Click Here To See Our Highest Rated Review
Lipodrops is a weight loss supplement in the form of drops. Most weight loss drops are HCG based, but this product is quick to let you know it is not a hormone supplement, and it will work more effectively. Read this review to learn more about the program and how it works to help you reach your weight loss goals.
List of Ingredients
Lipodrops does not provide a list of ingredients for our review. It appears the formula is made up of: Inositol, Methionine, Choline, and L-Carnitine.
Product Features
Lipodrops are drops used on your tongue and in your drinks to help promote weight loss. It does this by using a combination for four main ingredients, all amino acids and B vitamins necessary for the body to facilitate weight loss on its own. Inositol helps to break down fat. Methionine is used to detoxify the liver. Choline is used to remove fats from the liver and bloodstream. L-Carnitine is an amino acid that helps move fat throughout the body and use it as energy, rather than storing it. There may be additional ingredients, but they are not listed on the product website. We also do not know how much of each ingredient you are expected to get per dose of the drops. Expect to spend $66 a month to keep yourself in supply with this supplement. The official website has information about how to work the drops into your plan no matter what your goals are, but the official website also lacks a great deal of information and looks much less professional than websites for many of the other products we review.
Advantages
Lipodrops are not HCG based drops.
These are easily incorporated into your diet.
Disadvantages
Lipodrops does not provide a full list of ingredients, which indicates they are either hiding something, or do not use enough of any ingredient to produce an effective product.
This supplement is incredibly expensive at $66 for a single month's supply!
There are no customer reviews to support this product.
There is no specific diet guidance for this product.
We are not sure if there is a money back guarantee for this product or not.
Conclusion
Lipodrops are likely not as effective as they want you to think. Without an actual label to see what other ingredients could be in the formula, and how much of each ingredient is included, we cannot really tell you how effective the product would be. Operating through PayPal indicates that you should be able to get your money back if you are not happy with the product, but it could take a while. We recommend diet, exercise, and a clinically proven safe and effective supplement.
GD Star Rating
loading...