Updated: 09/29/2015 - Sponsored by Leptigen
Lipofire Review - Does This Weight Loss Supplement Really Work?
Are fad diet ingredients and side effects deal breakers?
PUBLISHED: 09/14/2015 | BY: SUMMER BANKS, SENIOR REVIEWER
Editor
's Review:
3.5
/ 5.0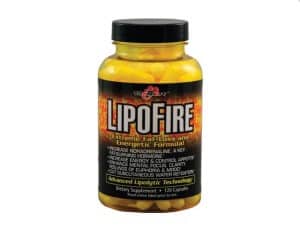 We've heard plenty of dieter discussion about Lipofire weight loss pills, so we decided to create an in-depth review, examining the side effects, ingredients, scientific studies and overall customer care. We also focused on hundreds of customer reviews and dieter comments from around the web. Finally, we compacted all of the data we found to give you the important information you actually need.
EDITOR'S TIP:
Substitute Lipofire with a proven fat burner such as
Leptigen
for better results.
What You Need To Know
LipoFire is marketed as a "metabolic complex" that helps increase metabolism, improve energy and enhance performance. This supplement is directed to be taken daily (two capsules is a serving). The ingredients used in LipoFire include the following; Vitamin B6 (20mg), Folic Acid (400mcg), Vitamin B12 (500mcg), Green Tea Leaf, Caffeine Anhydrous, Synephrine HCL, White Willow Bark, Raspberry Ketone, Cayenne, Hordenine HCL, Methyl-Synephrine HCL, D-Glucuronolactone, DMAE, Beta-Phenylethylamine HCL, N-Methyl-Beta-Phenylethylamine HCL, R-Beta-Methylphenylethylamine HCL, Dandelion Root, Uva Ursi Leaf, Juniper Berry and Hoodia Gordonii.
LipoFire was released in 2014 and is made by VitaSport. Both women and men can use this weight loss aid. There is a "find a retailer" tool provided on the official website to help customers find nearby dealers, but read on…
Fad Weight Loss Ingredients
"Some of the key ingredients used in LipoFire are basically fad diet ingredients. These include Raspberry Ketone and Hoodia Gordonii, both of which have not been proven to help with weight loss," says our research editor.
According to one customer, "LipoFire did not work for me! Still weigh the same."
Another dieter said, "I have a bad rash from using Lopofire and that's not good."
Scroll below for one of the best products we've seen in 2015.
Side Effects – Watch Out!
Since LipoFire contains a combination of Hordenine, Synephrine HCL and Caffeine Anhydrous, this diet aid may lead to some serious side effects. In fact, one customer complained, "Made my heart race like crazy. Scary stuff."
Another stated, "LipoFire makes me too jittery and anxious, not good for me."
Our research has shown that if a specific aspect of a weight loss supplement or diet program is very burdensome (bad side effects, high cost, fad diet ingredients) the probability of long-term fat loss success is low. So, if LipoFire does in fact cause side effects in a lot of people, this could be a major concern.
The Science
The official website does not provide much information on LipoFire. There is no clinical research presented on this diet pill at all. We at DietSpotlight need to see actual documented science regarding the diet product and its ingredients or we simply can't get behind the weight loss supplement.
The Bottom Line
It's always exciting to see a new weight loss product emerge. However, we certainly don't recommend LipoFire for safe and effective weight reduction. First of all, this supplement is not backed by any clinical studies. Secondly, you cannot purchase LipoFire through the official website. There is not even a price posted for this diet aid. Lastly, this weight loss formula contains some dangerous stimulants that can cause side effects.
If you really need to lose more weight and slim down faster, we encourage you to select a diet supplement that is backed by real science, does not cause harsh side effects and is supported by positive customer feedback.
Among the top-rated weight loss products we've come across in 2015 is one called Leptigen. This diet supplement contains a proprietary blend of four key ingredients, which have been proven in documented scientific studies to help boost metabolism and encourage fat loss. Also, we can't locate any complaints about harmful side effects and dieter reviews posted online show people are seeing real results.
Also, the makers of Leptigen are so confident in their product they're offering a special trial offer, which is a good sign.