Updated: 09/29/2015 - Sponsored by Leptigen
Liponox Review - Does This Weight Loss System Work?
Are lack of results and unnecessary ingredients deal breakers?
PUBLISHED: 09/11/2015 | BY: SUMMER BANKS, SENIOR REVIEWER
Editor
's Review:
3.5
/ 5.0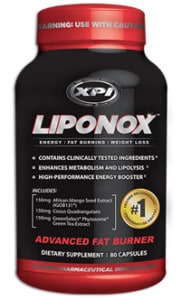 We've been hearing a lot about Liponox the past few months, and we were excited to dive in and do an in-depth review of this weight loss supplement. We looked at the ingredients, side effects, scientific data, and the company behind Liponox to determine if this was a buy or not. We read the comments in several online reviews, and have summarized the information to allow our readers to make an informed decision on whether or not to purchase this product.
EDITOR'S TIP:
Substitute Liponox with a proven fat burner such as
Leptigen
for better results.
What You Need to Know
Liponox is a diet supplement that comes in a capsule that can be taken anywhere. Each bottle comes with one month worth of pills for $60. These pills are large and difficult to swallow, but they can be taken anywhere, making it a convenient option for those looking to lose weight on the go.
Liponox was introduced in 2013, after two years of research to determine the optimal ingredients to include in their proprietary blend of weight loss ingredients. While it can only be purchased online, it is readily available, and can be quickly purchased. The online customer service even includes a chat function to go along with their phone number, so getting in touch with the customer service is quick and easy. Liponox also offers a 90 day money back guarantee, which is an encouraging sign for those unsure about trying a new diet supplement. We like a lot of the benefits of Liponox and were initially optimistic about the performance of this weight loss supplement, but read on…
Lack of Results – Disappointed and Discouraged
The most common complaint about Liponox was the lack of results. The proprietary blend included over 100 ingredients, so you'd think that the results would be consistent for all users, but most users fell well short of the 3-5 pounds per week that the company boasts on their official website. "I didn't lose a single ounce," said one online review. "There seem to be ingredients that offset each other," said our research editor. "With the long list of ingredients in Liponox, some ingredients cancel out the benefits of other ingredients, potentially hindering weight loss."
"I don't feel any different with these pills than I did before," said one user.
"Too many filler ingredients to get the results I'm looking for," said another.
Scroll below for one of the best products we've seen in 2015.
Unnecessary Ingredients – Another Concern
While unnecessary ingredients shouldn't be a deal breaker by any means, 107 ingredients in one weight loss supplement might be over kill. According to several reviews online, the pills were large and difficult to swallow due to the large number of ingredients. The active ingredients include Green tea extract, Gotu Kola, Oolong Tea, Kola Nutm, and a few other tea extracts and stimulants. The other 90+ ingredients are just filler ingredients. "I have a hard time taking a product when I don't even know what half of the ingredients are," said one disappointed user.
"I didn't lose weight, and now I'm starting to wonder if any of the 100 or more ingredients are actually doing anything," said another.
Our data has shown time and time again that if there's something especially difficult about a weight loss routine (pills that are difficult to swallow, negative side effects, lack of results, etc.) the likelihood of maintaining long-term weight loss is slim. If Liponox is as ineffective as some users claim, this could be an issue for those trying to lose weight.
If you do try Liponox, we suggest you compliment these capsules with an exercise regimen and healthy diet. We've seen some people with positive results, but usually when accompanying Liponox with an organized exercise program and reduced caloric intake.
The Science
Science is one of the strengths of Liponox. Three of their top active ingredients, Green coffee bean, razberi-k, and chromax, have been include in clinical studies that have proven effectiveness when put up against a placebo. The problem comes when you combine these ingredients, the benefits aren't multiplied. When used individually, these ingredients do have proven results, but no studies have been made to prove that their specific combination of ingredients is more effective. In fact, many people have argued that the ingredients have cancelled each other out, and mitigated the positive results.
The Bottom Line
There was a lot to like about Liponox, including the company's history, the scientific data behind their ingredients, and the cost of the supplements, but based on actual customer reviews and our personal research, we can't recommend this as an effective weight loss option. Because of the lack of results that many customers have experienced, the plethora of unnecessary ingredients that interfere with each other. We also didn't like the size of these capsules or the fact that you could only buy the product online.
If you'd like a supplement that helps you slim down without unnecessary filler ingredients, we suggest you find a supplement with minimal ingredients that are proven to provide the weight loss you need without the stimulants, filler ingredients, or horse sized capsules.
One of our favorite products so far in 2015 is a product called Leptigen. Leptigen has a proprietary blend of just four ingredients that have been included in clinical studies against placebos to improve the weight loss results that users experience. Leptigen is small and easy to take, and it boosts metabolism, while accelerating fat loss. We've scoured online forums, and haven't been able to find any negative side effects associated with taking Leptigen.
One of the telltale signs of a confident company, is the willingness to stand behind their product, which makes Leptigen an encouraging product. The makers of Leptigen are offering a special trial offer, which is encouraging to us at DietSpotlight.