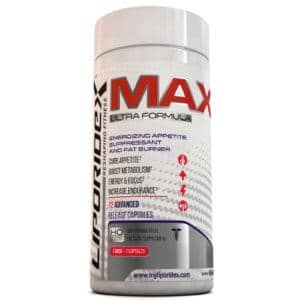 In the weeks that led to this review, I figured out whether Liporidex MAX actually works. We took the time to create a thorough review, focusing intently on the side effects, ingredients, customer-service quality, and scientific studies. Then we examined numerous online consumer reviews to get a more complete picture of the product. Finally, we summarized all of the data we gathered to give you the facts.
What is Liporidex MAX?
To begin with, Liporidex MAX is a metabolism booster packed with stimulants. The ingredients are vitamin B6, vitamin B12, green coffee bean extract, raspberry ketones, green tea extract, decaffeinated green coffee bean extract, evodiamine, norcoclaurine HCI, caffeine anhydrous, guarana seed extract, bitter orange extract, bacopa, black pepper extract, choline bitartrate, phenylethylamine, L-tyrosine, vinpocetin, rhodiola extract, quercertin, and ashwagandha. The manufacturer claims it will help suppress appetite, increase energy and focus, and enhance physical endurance.
Liporidex MAX is made by Liporidex which was founded by Dr. Emeka Okwuje. He established the company when he realized how difficult it was to find high quality solutions for his own weight-loss struggle, but read on…
Ingredients– "Too Many Stimulants?"
The first concern we have is with the number of Liporidex MAX ingredients that act as a stimulant. According to our Research Director, "When too many elements act in a similar way it can have a negative impact on the client. This is especially true for those with medical conditions that might make them more susceptible to the effects."
This dieter worried, "I was excited about this but then my doctor asked me to bring in the new supplement I was taking and he said I needed to stop immediately. Something about the other medicine I'm taking."
An equally concerned reviewer shared, "This acts like several cups of coffee all at once. That's bad for my heart so I can't use it."
Not everyone was concerned about the usage of similar ingredients.
A more optimistic reviewer claimed, "I love the energy boost I get from this."
While another said, "This works great for me, whatever is in it must be ok."
Scroll below for one of the best products we've seen over the last year.
Side Effects– "Serious?"
Some of the side effects were very troubling for users. Though rare, it is always something that should be considered before starting a new supplement.
One consumer noted, "I couldn't sleep at all when I was taking this regularly. I'd be tired but too wired to sleep, it was weird."
According to this customer, "I got wicked headaches every time I took this so I eventually had to give up."
Not everyone experienced any negative side effects.
A commenter explained, "I feel like greyhound at the track when I take this. I love having all of that energy, it makes hitting the gym much easier."
Another pointed out, "I know it doesn't work for everyone but it has worked great for me."
According to our research, multiple ingredients that have a similar function and increase the potential for serious side effects are a major concern for many consumers. These are the types of details that really matter in formulating one's overall impression of both a product and a company. If dieters don't feel safe taking a product they will quickly move on to another alternative.
The Science – "Not Available"
At DietSpotlight we are always excited when a medical professional is behind the development of a supplement. This can indicate a higher standard of clinical research. Unfortunately, Liporidex MAX has absolutely no scientific data about the product or the components contained therein.
The Bottom Line – Does Liporidex MAX Work?
What's the real deal with Liporidex MAX? There are many high quality ingredients in the formula of this weight-loss supplement. Unfortunately, many of the benefits may be diluted due to the amount contained while others could be amplified unnecessarily due to similarity. Considering the company offers no proof of efficacy, we have reservations about offering our support.
If the time has come to jump start your metabolism, you may want to check out a weight-loss supplement that focuses on a select number of highly effective ingredients that are backed by solid scientific research. The official website should outline the benefits of each and make a well-trained customer-service staff available to answer specific questions or concerns.
Among the best products we've seen in 2016 is one called Leptigen. It contains a combination of four active ingredients, which have been clinically shown to help to help boost fat loss, fight hunger and kick-start metabolism. We weren't able to pinpoint any negative user feedback online, and customer responses around the web reveal people are seeing fantastic results.
The company that makes Leptigen is so excited about their product they're offering a Special Trial Offer, which many of our readers have found reassuring.