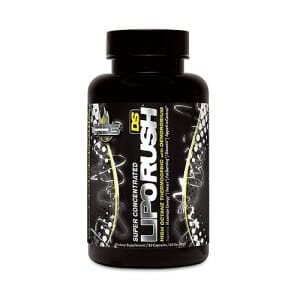 In my never-ending search to discover the best diet product, this week I reviewed Liporush. We delved into the ingredients, side effects, clinical research and customer service. Furthermore, we investigated hundreds of consumer comments and reviews. We then consolidated and summarized to give you the info you need.
EDITOR'S TIP:
Substitute LipoRush with a proven fat burner such as
Leptigen
for better results.
What You Need to Know
First off, Liporush is a thermogenic supplement containing several formulas. Liporush ingredients include caffeine, amla fruit extract, synephrine, yohimbine, theobromine, dandelion root extract, uva ursi leaf powder, Chinese licorice root and amino acids. The recommended dose is one capsule per day; supposedly to assist with weight-loss. One benefit is that you can take the diet pill on the go.
The product, introduced by NDS Nutrition as a fat burner in 2002, doesn't appear to contain synthetic ingredients, which is a good start. The supplement is available to purchase on the official website and through trusted retailers. We do like the fact that we found some positive comments and the company's been around for more than 12 years, but read on…
Ineffectiveness – "No Weight-Loss?"
The first concern we had was the ineffectiveness of Liporush ingredients. "The purpose of a fat burner is to assist with weight-loss," said our Research Editor. "If dieters report a formula doesn't work to help them lose weight, why take it?"
"This is my first time actually taking this pill. It's supposed to boost your energy – I've had no energy boost. It's also supposed to suppress your appetite, hasn't done that either so far," commented a dieter.
"Garbage! I go to the gym 6 days a week and eat normal meals. I just finished the bottle I did not lose any extra weight," reported a user.
Scroll below for one of the best products we've seen over the last year.
Side Effects – "What to Expect"
Based upon several customer comments, Liporush side effects are harsh. "I took it today and got horrid stomach cramps and was very jittery all day," reported a user.
"I all of a sudden started burning up and felt very nauseas and dizzy. 6 hours later, my palms are still sweating, I still feel sick, and my eyes feel blurry," said a customer.
"I was super jittery, my vision was blurry and when coming down off the caffeine, I had a horrible headache, not to mention feeling nauseous all day, especially after I ate or drank.," offered another.
Our research concludes that any part of a product deemed problematic, like adverse reactions, could limit long-term success. If Liporush side effects are as bad as customers state, this is an issue.
The Science – "Legit?"
While the official Liporush website makes the case the supplement will assist with fat loss and weight management, we can't locate any published clinical studies linking the formula to weight-loss. We did find research into synephrine that revealed some potential negative side effects. At DietSpotlight, finding scientific support is critical. If there's no science, why waste your time?
The Bottom Line – Does Liporush Work?
So, what's the final take on this fat burner? There are some positives, like the longevity of the company and a few favorable customer comments, but we have reservations about it because of the lack of scientific studies supporting weight-loss claims. We're also concerned that the business doesn't have a BBB rating and the addition of ingredients reported to cause negative side effects.
If you'd like to improve your waistline, we recommend you go with a product providing ingredients supported by published clinical research that is both effective and free of negative side effects.
Among the best products we've seen in 2015 is one called Leptigen. The formula contains a four-ingredient proprietary blend shown in published scientific research to promote fat loss and ignite metabolism. There's nobody talking about adverse side effects and dieter comments on the web state people are seeing exceptional results.
Also, the makers of Leptigen show confidence in the supplement by providing a Special Trial Offer, an excellent choice.