Considering people are buzzing about Lipozene, we pored through the ingredients, side effects, scientific research and customer service. We focused on hundreds of consumer comments and reviews. Then, we processed and refined to provide the info you need.
What is Lipozene?
First off, Lipozene is an appetite suppressant containing the water-soluble fiber glucomannan, which is known to fight constipation. [1] The suggested dose is two capsules prior to each meal. Obesity Research Institute, the makers of the product, claim it decreases hunger [2] and facilitates weight-loss. Ease of use and portability are a couple benefits.
Introduced as a weight-loss supplement in 2003, Lipozene uses a natural ingredient, which is a good decision. You can purchase the product on the official website and retail stores like Amazon, though it only has a 2.3 customer rating. We do like the money-back guarantee and the favorable BBB rating, but read on…
If after one month it doesn't work, it's not the right pill for you.
Side Effects – "Left You Feeling Bad?"
The first issue that came up time and again dealt with Lipozene side effects. [3] "Supplements containing water-soluble fiber could lead to you feeling fuller, longer," says our Research Editor. "The trouble comes when that ingredient starts causing stomach issues, among others." [4]
"When I say that was some bad pain it was some bad pain. Pain to the point that I started feeling nauseous," said one consumer.
"Work or not, the side effects are most definitely NOT worth it," commented another person.
We also found some dieters who only noticed results as a side effect. One said, "It does what it's supposed to do. It makes you feel fuller faster and crave snacks less, most of the time."
A user also reported, "The product so far hasn't lied in the fact that it does make me feel full a little faster."
Scroll below for one of the best products we've seen over the last year.
Class Action Lawsuit Against Lipozene – "A Major Concern"
Lipozene has had some legal concerns. One issue came about in April 2011 when the Obesity Research Institute was involved in a class-action lawsuit. [5] (PDF) It dealt with the fact that the company made false claims about weight-loss effectiveness. The final ruling saw payments of more than $5 million to customers.
FDA Warning – "Another Issue"
In March of 2014, Lipozene was warned about using medical statements in regards to how the supplement works. The company behind the product claimed the ingredients had been used for hundreds of years to "treat" conditions.
Poor Customer Service – "Not Good"
According to Lipozene complaints posted on the web, the customer service department does not help. "I ordered Lipozene just to try it. The next day I canceled or I tried to cancel my order. All I got was the runaround. Nobody answers the phone, for what reason who knows. I don't want my card charged again, but still having trouble getting through," said a user.
"Today I called and spoke with a rep. She tells me that I am no longer eligible for a refund. I then asked to speak to a manager. He tells me the same thing," voiced a dieter.
There are certainly more negative comments about the support system, but the company swears they're there for the buyer. They said, "Lipozene investigates all complaints, and its customer service's goal is to keep EVERY customer happy."
Our research shows if a single part of a weight-loss plan is problematic, such as poor customer service, long-term success rates are low. If representatives are unwilling to help, that could turn consumers off.
The Science – "Clinical Proof?"
The official Lipozene website states the supplement is "clinically proven," but we couldn't find scientific research offering support because the supplement claims to contain a proprietary blend. Only glucomannan [6] is listed, but there could be other ingredients in the formula. If there are, that could change how the product works. At DietSpotlight, we look for definitive proof. If there's none available, there are other options out there for dieters.
Also: read our Leptigen Weight-Loss Kit review »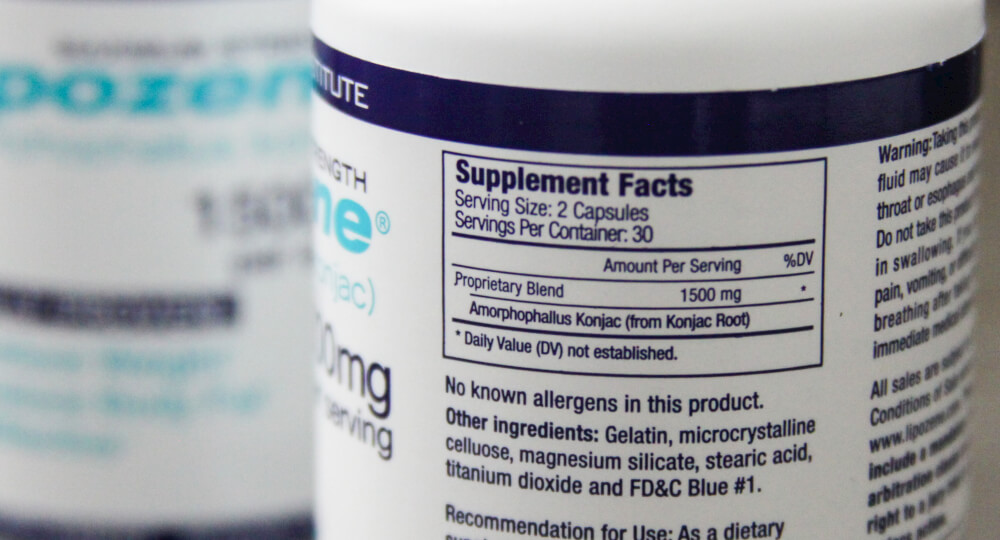 The Bottom Line – Does Lipozene Work?
Ahh, let's put this one to bed once and for all. A few favorable customer comments and the longevity of the company are some positives, but we have a few reservations to take into consideration. There's no science backing up the weight-loss claims, to start. We're also concerned about multiple complaints listed on ripoffreport.com and comments stating the representatives were unwilling to help resolve concerns.
If you're ready to slim down, we recommend going with a product that saves you money with ingredients supported by published clinical research and a customer service department that's there with help when you need it.
Among the best products we've seen in 2016 is one called Leptigen. Supported by published scientific studies to help promote fat loss and enhance metabolism, the product is a proprietary blend of four ingredients. Consumers aren't talking about adverse side effects and reviews around the web highlight great results from dieters.
We've noticed the makers of Leptigen are so confident in the supplement, they're providing a Special Trial Offer, which is a good decision.