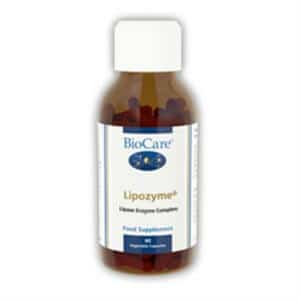 Don't laugh, but well over 50% of diet products simply won't work. So what about Lipozyme? There has been a lot of buzz, so we took it upon ourselves to write a detailed review, examining the side effects, ingredients, customer service quality and scientific studies. Plus we sorted through dozens of user and dieter comments from around the web. Finally, we summed it all up to give you the info you need.
EDITOR'S TIP:
Substitute Lipozyme with a proven fat burner such as
Leptigen
for better results.
What You Need To Know
First off, Lipozyme is touted as a "high-powered enzyme complex" that helps relieve bloating, gas, intestinal pain and cramping. The ingredients are patchouli flower, anise, lemongrass, fennel seed, lipase, juniper berry, bee pollen, peppermint leaf, ginger root, tarragon leaf and Pancreatin 10X. This supplement is supposed to help with the digestion of fats and the absorption of nutrients. You need to take one capsule of Lipozyme three times a day, prior to each major meal.
It appears that Lipozyme has been available since 2010 and it can be purchased online. Both women and men can use this supplement and no prescription is needed to obtain Lipozyme, but read on…
High Price – "Yikes?"
The first thing that comes up with Lipozyme ingredients is that the company expects the dieter to pay an outrageous amount. According to our Research Editor, "The actual price of Lipozyme capsules is $132.95 per bottle, which is quite expensive. When you consider what this supplement claims to do, there are alternative products that work in a similar manner, but cost much less."
According to one customer, "This is just too expensive, feels like a scam!"
"Will not spend $133 again on this. Did nothing for me," said another user.
Scroll below for one of the best products we've seen over the last year.
Customer Feedback – "Quite Discouraging"
We certainly noticed some negative user reviews posted online for Lipozyme. One user stated, "What does this actually do? I can't notice anything different."
Another customer commented, "This is not for weight-loss! Found out the hard way."
According to the research we have conducted, if there is a certain part of a diet product that is very annoying or concerning (a painful/difficult exercise routine, high price, negative user reviews) the odds of long-term weight-loss success are not good. Therefore if Lipozyme costs too much, this could be a deal breaker.
The Science – "Legitimate?"
We at DietSpotlight prefer to see concrete science before we support a diet product. Sadly, we were unable to find any clinical trial studies or research that backs Lipozyme capsules for weight reduction. On the other hand, this formula may help relieve digestive problems such as bloating and gas, which some dieters will appreciate.
The Bottom Line – Does Lipozyme Work?
So, should we jump in the car and race off to get this one? Lipozyme does contain some interesting ingredients, but we feel that it's definitely overpriced. Furthermore, this supplement is more of a digestive aid than anything else, which is why we have trouble recommending it to dieters. It does not help boost metabolism or encourage fat loss. Moreover, there is no money-back guarantee provided with Lipozyme capsules.
If you'd like to see more significant fat loss and slimming results, we suggest you select a weight-loss supplement that contains proven ingredients, does not cost you a fortune and does not lead to adverse effects.
Among the best products we've seen in 2016 is one called Leptigen. This weight-loss supplement contains four unique ingredients that have been proven in published scientific studies to help elevate metabolism and assist with fat loss. We have not found any discouraging reviews pertaining to side effects and dieter responses on the internet reveal people are seeing substantial results.
Also, the business behind Leptigen is confident enough in the formula to offer a Special Trial Offer, which is a good sign.