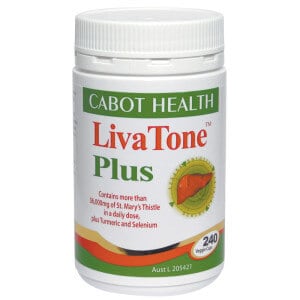 We've all struggled to find the right diet product, so we concentrated on ingredients, side effects, clinical research and customer service for Livatone Plus this time around. Furthermore, we scrutinized hundreds of dieter comments and reviews. We then summarized and refined to give you the info you need.
EDITOR'S TIP:
Substitute Livatone Plus with a proven fat burner such as
Leptigen
for better results.
What You Need to Know
First off, Livatone Plus is a liver support supplement that contains milk thistle seed, B-vitamins, taurine, green tea extract and silymarin. The recommended serving is one to two capsules per day, which supposedly improves liver function. One benefit is that it's readily available.
The supplement was introduced in 1980 by Cabot Health and doesn't appear to contain artificial ingredients, a good choice. You can purchase Livatone Plus on the official website and through trusted retailers. We do like the long history of the company and we found a few favorable customer comments, but read on…
Ineffectiveness – "Lacking Results?"
The first concern we had with Livatone Plus ingredients was ineffectiveness. "Many supplements are processed by the liver, so making sure the organ is healthy is important," says our Research Editor. "But, that doesn't mean Livatone Plus will promote weight-loss and some users say it does nothing at all."
"After buying three of these, I can't say that it made a difference. I had a blood test after I finished the third bottle, and the results were just the same as they had been prior to taking the pills," reported one dieter.
"The hype did not match the results. I took it as prescribed and nothing that was stated happened," commented a customer.
Scroll below for one of the best products we've seen over the last year.
Side Effects – "Not Expected!"
Based upon customer comments, Livatone Plus side effects are not comfortable. "This morning (Day 3) I wake up feeling pretty sick- achy joints, lethargic, sour stomach, headachy, congested & my liver is hurting!," said a user.
"Made me awful sick. I got weak, no energy, sweating and had to go to bed to recover. I thought I was coming down with a cold. But I took it a few days later and had the same symptoms," commented a customer.
"[I] get some stomach cramping and I swear I feel some areas of my intestines moving also some pain in my liver," reports a consumer.
Our research suggests all it takes is one issue with a supplement, like ineffectiveness, to put a damper on long-term success. If Livatone Plus doesn't assist with weight-loss, there's a problem.
The Science – "Any Proof?"
There's no information on the official website linking Livatone Plus to weight-loss because no studies exist. We did find research published in the American Journal of Clinical Nutrition that shows a slight improvement in liver enzymes when you lose those extra pounds, but not the other way around. At DietSpotlight, having the ability to locate science to support claims is critical. If a company can't provide it, what's the sense?
The Bottom Line – Does Livatone Plus Work?
So ladies and gentlemen, after careful consideration regarding Livatone Plus, we've reached a decision. There are some positives, like the length of time the company has been in business and we found some favorable customer comments, but we are on the fence about recommending it because there's no research showing the formula assists with weight-loss. Plus, we're concerned about a supplement that could possibly cause adverse reactions.
If you'd like to lose excess pounds, we recommend you go with a product that offers ingredients backed with clinical research and no reports of negative side effects.
Among the best products we've seen in 2015 is one called Leptigen. The proprietary blend of four ingredients has been shown in published studies to enhance metabolism and ignite fat loss. There's no one talking about negative side effects and reviews on the web show people are seeing exceptional results.
Also, the company behind Leptigen is so confident in the product, they're providing a Special Trial Offer, which is a good decision.