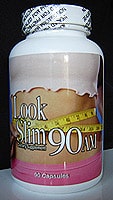 There's some buzz surrounding Look Slim 90, so we took a detailed look at the ingredients, side effects, clinical research and customer service. We scoured hundreds of user reviews and comments. We then took our findings, condensed and summarized to give you the info you need.
What You Need to Know
To start, Look Slim 90 is a weight-loss supplement that contains raspberry ketones. If you take two before bed each night, the company claims it will "assist the body in shedding excess body fat naturally." The pills come in a small bottle so there's no trouble traveling with it.
The product, which is created by an unknown company, appears to use only natural ingredients, a good decision. You can buy it from the official website, but it is not available anywhere else. We like that some users report positive effects and the price is reasonable, but read on…
Customer Service – "Supportive?"
The first thing we worry about with Look Slim 90 is the customer service department. "Representatives are the dieter's connection to a company," says our Research Editor. "If a business is not willing to give support, that can cause a serious trust issue."
"Funny thing was the number you called day or night was the same old man voice on the phone. My had gotten lost in the mail and I had called several times before it got here and when I would ask him about it and give my name you could hear paper in the back ground like he was looking through his notes..lol," offers one buyer.
"I returned the 3 month supply, they can not find the package that I sent and have not credited my account as of today. It has been a 3 month process and multiple calls and they still have not found the package and have not credited my account. I am frustrated beyond belief and feel as if they are waiting for me to just give up," says another.
Scroll below for one of the best products we've seen over the last year.
Lack of Results – "May Not Work"
You don't spend your money on a supplement because you just want to. You're looking for results, but users claim you won't find any when you take Look Slim 90 ingredients. "I took your product for three months and absolutely los only three pounds. Only thing I got out of it was heartburn each morning. Think I really wasted my money here," a dieter explains.
"It is a joke…it does not work….I gained 10 pounds on this junk!!!," another user complains.
Our research shows a connection between a negative, like poor customer service, and a lack of long-term success. If Look Slim 90 representatives can't be there for dieters, there's really no reason to give this one a try.
What Does Science Say?
Look Slim 90 diet is not backed by clinical support and the company doesn't bother trying to say it is. According to the National Institutes of Health, there is "insufficient research to draw firm conclusions" about raspberry ketones. All of the studies we found on the ingredient were completed on mice and rats, not humans. DietSpotlight looks to the science to back up a product's claims. If that's not there, the dieter needs to think twice about buying the supplement.
The Bottom Line – Does Look Slim 90 Work?
Our deep dive into Look Slim 90 was interesting. We like that the ingredients are shown on the official website and we did find a few positive comments, but we have doubts about a product with absolutely no clinical support. We are also a bit concerned that there is no information on the company behind the supplement and raspberry ketones are considered a "fad".
If you're ready to slim down, we suggest trying out a product that combines a clinically proven formula that doesn't include "fad" ingredients. We also think a supportive customer service department is a big deal.
Among the best products we've seen in 2016 is one called Leptigen. The proprietary blend of four ingredients has been proven in published studies to help support metabolism and fat loss. We found no dieters mentioning a single negative side effect, but we did find quite a few users who've seen great results.
Also, the makers of Leptigen are confident enough in the supplement to offer a Special Trial Offer, a great sign.