Updated: 09/29/2015 - Sponsored by Leptigen
Lowat Review - Does This Weight Loss System Work?
Are lack of results and negative side effects deal breakers?
PUBLISHED: 09/08/2015 | BY: SUMMER BANKS, SENIOR REVIEWER
Editor
's Review:
3.5
/ 5.0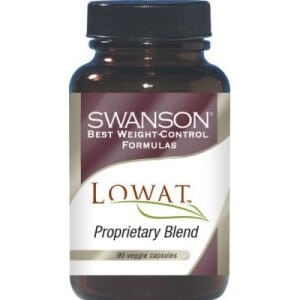 We've been hearing more and more about Lowat veggie capsules as a weight loss supplement. At a fraction of the cost of similar products, this was an intriguing product for one of our in-depth reviews, so we looked at the ingredients, negative side effects, scientific data, and customer support. We also read reviews and user comments online, and summarized what we found into a condensed summary for our readers.
EDITOR'S TIP:
Combine Lowat with a proven fat burner such as
Leptigen
for better results.
What You Need to Know
To start with, Lowat is a diet supplement that contains a proprietary blend of Dolichos Biflorus extract and Piper Betle Extract. This diet supplement is meant to be taken 3 times a day before your meals with a glass of water, and each container comes with a one month supply for only $19. The capsules are easy to take, and are convenient to take anywhere.
Lowat has been around since 2011, and it's produced by a company called Swanson Health Products, which has been around since 1969. The longevity as a company, and the all-natural ingredients are both positive signs, and the affordability of this product many it an intriguing diet supplement option, but read on…
Lack of Weight Loss – Disappointing Results
The primary concern that we have with Lowat is the lack of results. Many reviews online complain about the lack of results they experienced with this product. One user mentioned: "I haven't seen any results, I'd see the same results if I drank just the glass of water before each meal." Most reviews were along the same lines as this one, with users disappointed in the lack of results.
"I've been taking these for 3 weeks with no weight loss," said one disappointed dieter.
"These work eventually, but it takes a long time of taking these veg caps to see any results," said another.
Scroll below for one of the best products we've seen in 2015.
Negative Side Effects – Another Red Flag
Something else that was a recurring theme in the Lowat reviews was the negative side effects that were attributed to this diet supplement. Several commenters suffered from dehydration, constipation, and dry skin associated with the Piper Betle. "I've been taking Lowat for a few weeks now, and I'm constantly dehydrated and jittery," said one user. Another user commented that "I've been constipated and bloated ever since starting with Lowat." Some studies have also linked the Piper Betle ingredient to mouth cancer, so this is another red flag for many potential Lowat users.
Our research has indicated to us that if there's a specific part of a weight loss regimen or diet supplement that is abnormally difficult or troublesome (taste, lack of results, negative side effects, etc.) the likelihood of losing the weight and keeping it off is slim. If Lowat really does have these negative side effects, this could be an issue for many that are trying to lose weight with these veggie capsules.
If you're dead set on trying a veg cap diet supplement, we recommend you watch for any negative side effects and discontinue use immediately if you start experiencing any of these symptoms. We also recommend that you consult your doctor prior to changing anything in your weight loss plans.
The Science
One disturbing thing that our research team found is that there was little to no scientific information about the two ingredients in Lowat. The lack of results is disturbing, and the possible link to mouth cancer is a risk that most aren't willing to take. The lack of clinical studies and negative side effects are a red flag for us at DietSpotlight. Finding published scientific data is important when researching a diet supplement, so this is a discouraging sign from a product that we were initially excited about.
The Bottom Line
Lowat was an intriguing review for us because of the all-natural ingredients, the longevity of the parent company, and the affordability of the product. We saw some good things in online reviews, but we cannot recommend Lowat as a healthy diet supplement. The fact that many users experienced little to no weight loss or had negative side effects, coupled with the lack of scientific data, and the association with the Piper Betle with mouth cancer make it hard to overlook the negative attributes of Lowat. We're concerned about our readers' safety, and a product that has ingredients that aren't confirmed to be safe for consumption is a red flag for us at DietSpotlight.
If you're interested in a healthy way to lose weight, we suggest you find an affordable product that provides the results you're looking for without the negative side, and that is backed by scientific research and clinical studies.
One of our favorite products so far this year is a new product called Leptigen. This product has a proprietary, four-ingredient, blend that combines to help users lose fat more quickly and boost their metabolism. These ingredients are backed by science, and have been reviewed in clinical studies. They've been proven to boost weight loss when compared to a placebo. We were also unable to find reviews complaining of negative side effects associated with Leptigen, which indicates that it's a safe way to lose weight and burn fat.
The makers of Leptigen are currently offering a special trial offer for new users; it's always good to see a company confident enough in their product to stand by it with a special trial offer.