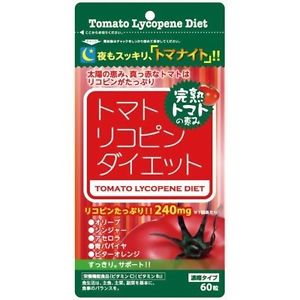 There has been a lot of chatter concerning Lycopene supplements, so we took it upon ourselves to create an intensive review, scrutinizing the ingredients, side effects, scientific research and overall customer service. We additionally focused on dozens of dieter reviews and user responses from all over the web. Lastly, we compacted all of the data we found to give you the facts you need.
EDITOR'S TIP:
Substitute Lycopene with a proven fat burner such as
Leptigen
for better results.
What You Need To Know
Lycopene is essentially a carotenoid that is found in some fruits and vegetables such as tomatoes, apricots, watermelon and pink grapefruit. Many people take a Lycopene supplement to potentially help with heart disease prevention, prostate health and cancer prevention. Lycopene is a potent antioxidant that can help prevent cell damage. However, there is no significant correlation between this carotenoid and weight management. However, some weight loss supplements and health products do contain Lycopene.
Lycopene has been used as a dietary supplement for years now. This powerful antioxidant can benefit both women and men. Furthermore, it's easy to come by Lycopene supplements in local stores and online, but read on…
Insufficient Evidence for Weight Management
"Even though Lycopene has been commended for its antioxidant properties, there is no real link between this carotenoid and weight reduction. While Lycopene can potentially aid with heart health, it does not burn off fat or suppress appetite," says our Research Editor.
One user stated, "Not sure Lycopene does anything at all. I'm better off just eating tomatoes."
"My doctor says Lycopene supplements are worthless. He says to drink tomato juice and eat tomatoes," says another individual.
Scroll below for one of the best products we've seen in 2015.
Some Side Effects – Another Concern
There are some customer complaints regarding Lycopene supplements. One dieter stated, "This caused serious diarrhea. That is not healthy."
According to another customer, "Lycopene supplement gives me abdominal pains. Not good!"
The research we've done has revealed that if there is a certain part of a diet supplement or weight loss program that is especially problematic (insufficient evidence, adverse effects, very
high price) the odds of real weight loss for the long run are not good. This means if Lycopene supplements lead to side effects in numerous people, this could be a major dilemma.
The Science
Here at DietSpotlight, we always need to see published clinical studies that support the supplement and the ingredients it uses. As for Lycopene, there are some scientific studies that link this carotenoid to heart health and antioxidant support, but no research has tied Lycopene to weight management or fat reduction. This is an important factor to keep in mind.
The Bottom Line
From what we gathered, some doctors recommend Lycopene supplements and others do not. Remember that it's always best to get this ingredient from the food itself if possible. Since this powerful antioxidant is not linked to fat loss or weight reduction, we do not encourage dieters to choose this type of supplement.
For people who need to get rid of more excess pounds, we encourage you to go with a diet supplement that contains scientifically proven weight loss ingredients and is backed by positive customer testimonials.
Among the best diet products we've spotted in 2015 is Leptigen. This weight loss formula uses a combination of four ingredients, which have been proven in documented scientific studies to help increase fat loss and ignite metabolism. Furthermore, we did not find any complaints of unpleasant side effects and user feedback on the web shows people are seeing great results.
Also, the makers of Leptigen are so confident in their product they're offering a special trial offer, which is a good sign.