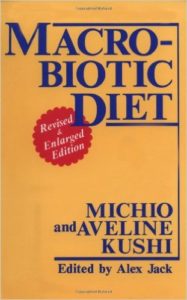 My love of diet plans is only bested by my passion for reviewing them J This time we took the Macrobiotic Diet into account, because it seems to be quite popular. We checked out the details, potential side effects and clinical support. We also read every testimonial and review we could get our hands on about books that explain the plan. Then, we condensed everything to give you the bottom line.
What is the Macrobiotic Diet?
To start, the Macrobiotic Diet is an eating plan that's focused on yin and yang. It talks strongly of grains with soy and vegetables. The details, in some cases, go so far as to suggest skipping certain types of cooking pans and utensils. Though weight-loss is one idea behind it, there's also a connection with balance in your life.
From what we found, the most popular Macrobiotic Diet book was written by Michio and Aveline Kushi. It looks like it was first released in 1993. That could be a problem if the information is outdated. We like the focus on eating right and balancing your life, but read on…
No Helpful Information – "Really?"
First things first, we found more than a few reports that the Macrobiotic Diet information was not as helpful as desired. "When you want to follow a new eating plan you need to know everything so you know what to expect," offered our Research Editor.
"It was not enough information about macrobiotics," said a person of one book on the subject.
Another shared, "This is book is a complete waste of my money and time! It's is more like a cult belief than a book on nutrition."
Some enjoyed what they read and felt it was just enough.
As one put it, "A little difficult to read but full of good information."
One more shared, "If only I could get everyone to read this book, who enjoys eating and being in good health!"
Scroll below for one of the best products we've seen over the last year.
Nothing More Than a Gimmick?
Following along the same vein, there were also claims that the information that was provided, in some cases, was more of a gimmick than useful.
A reader who enjoyed how information was provided in one case said, "The use of charts, colors and pictures is suburb and draws the reader into the book making it easy to understand."
Another shared the same general sentiment, "It covers the latest in scientific dietary theories so you are left with an understanding in how to incorporate these into your practice of macrobiotics."
However, you have to look at both sides and over the fence there are people who felt the information was not what they needed.
"The writer uses a lot of gimmickry phrases which make things sound nearly religious. There are so many better and more precise books on the market covering the same field many with detailed receipts which are lacking here," was one experience.
"I would say that this book is probably more enjoyable for someone who knows very little about Macrobiotic cooking. It is shallow on principles," claimed another.
We've found it takes the smallest of things, like information that seems gimmicky, to stop any chance of long-term success. If the information on the Macrobiotic Diet is not up to par, the dieter will not have what they need to benefit.
The Science – "Clinical Proof It Works?"
There is some support for the Macrobiotic Diet, if only because it backs whole grains and vegetables. However, it was more of a fad back in the 1960s – so science isn't exactly sold on the concept. At DietSpotlight, we want research to tell us to go ahead, but there's really nothing here to write home about.
The Bottom Line – Does the Macrobiotic Diet Work?
Are we already reading the Kushi book? Well, we certainly like the focus on eating right and the book is affordable, but we have reservations about suggesting this type of eating plan. There are far too many complaints that the information is lacking and that could make it harder for the dieter to achieve results.
If you're at that point that weight-loss is the only option, our suggestion is to partner that new eating plan with a clinically tested supplement with a clear connection to boosting metabolism.
Among the best product we've seen in 2016 is one called Leptigen. We love that only four ingredients are in the mix and that all are scientifically tested. There's also the fact that we found tons of amazing reviews from dieters who've lost weight and achieved their goals.
Plus, it's another positive that the makers of Leptigen offer customers a Special Trial Offer because they are confident you'll see results.