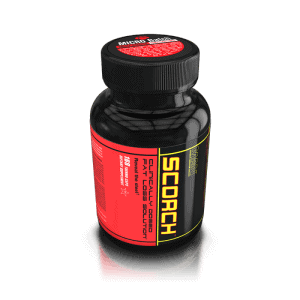 MAN has a couple of products on the market right now that are relatively popular. We've been curious, so we looked into clinical studies, reviews, ingredients, and customer service as part of a full study of Man Scorch. We even read through hundreds of user reviews online; here is the condensed version of our research
EDITOR'S TIP:
Substitute Man Scorch with a proven fat burner such as
Leptigen
for better results.
What You Need to Know
Man Scorch is a supplement containing a collection of ingredients: caffeine, green tea extract, oolong tea, and synephrine are the more well-known ones. Users are instructed to take 3 pills twice per day on an empty stomach (but not after 4 pm). Bottles contain 168 pills and are sold for $49.99 on mansports.com. Consuming 6 pills per day is a lot, but the 168-count bottle last for a month.
The product, which is produced by MAN sports in Mesquite, TX, uses several stimulants that are shown to provide at least a moderate boost in metabolism. You can find it on MAN's main website or in a number of online retailers. We do like the use of a few proven ingredients, and the moderate price isn't too bad, but read on…
Results– Don't Prove Much
Our first issue with Man Scorch was the mixed bag of results. "If you commit to your 6 pills per day, you may see modest results," said our Research Editor. "The stimulants in Man Scorch should give a small boost, but reviews show a relatively small chance at success. I'm not sure the risk is worth the price tag on this supplement."
"Not only have I not lost weight, but I don't see a difference in energy or appetite," said one user.
"I didn't notice any difference when taking this product," said another.
Scroll below for one of the best products we've seen over the last year.
Side Effects – Another Concern
Not surprisingly, we found many reviews online that mentioned undesirable side effects.
"I have not felt any other effects besides a burst of energy from caffeine, which is then followed by a crash if I forget or don't have time to take the second serving later during the day," said one customer online.
"Not too jittery," said another, "but it did keep me up at night."  Upon reading more reviews, we noticed a variety of side effects besides energy related ones. "Complete waste of money. Did make me constipated, though!" said one person.
We have researched many different supplements, and one recurring theme is that even one shortcoming in a product (caffeine side effects, constipation, high cost) can lead to long-term failure of the product. If Man Scorch really does cause these regular side effects, we don't have a lot of faith that the product will lead to long-term health benefits for users.
The Science
One good thing about Man Scorch is that it uses some ingredients that actually have clinical support. Caffeine and the two tea extracts have both been shown to have modest effects on fat and metabolism (although they do cause side effects). Synephrine also has been shown to support weight loss, although the National Library of Medicine says more studies are needed to confirm its safety. Side effects pose another problem with synephrine. The rest of the ingredients haven't been studied like the afore-mentioned, and some of them haven't been proven at all. Raspberry Ketones, for instance, haven't been shown to decrease fat in anything other than mice and rats.
Since caffeine and the tea extracts are the main forces at work here, the product as a whole probably isn't worth the price on the bottle.
The Bottom Line
We were pretty interested in the claims Man Scorch made, since several ingredients have promise and a couple have proven track records. This product has the potential to be effective–it needs some fine-tuning. Be that as it may, the disappointment lies in the side effects, spotty results, and the price. We think the price is a bit steep for a mixture that doesn't offer much of a trustworthy guarantee, and the side effects look to be rather uncomfortable.
For those who do need to burn off some extra weight, however, we recommend finding a supplement that offers reliable results, no side effects, and has a good price point for what you get in each pill. You want to get the most out your money when you buy supplements; don't pay more than you need to for average ingredients.
A supplement called Leptigen has really given us a pleasant surprise lately by using four clinically researched ingredients to both burn fat and boost metabolism very effectively. Side effects seem to be a non-issue, and the reviews from around the web look great! Definitely a good value for the money.
Also a good sign: the makers of Leptigen are offering a special trial offer.