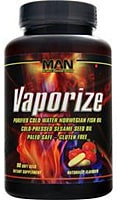 We've heard a lot of buzz about Man Vaporize, so we did one of our in-depth reviews, focusing closely on the ingredients, side effects, customer-service quality and scientific studies. Plus we read through dozens of user comments and customer reviews from all over the internet. Lastly, we condensed all the data and responses we found to give you the important info you need.
EDITOR'S TIP:
Combine Man Vaporize with a proven testosterone booster such as
Pronabolin
for better results.
What You Need To Know
Man Vaporize is a supplement available from Man Sports. This product retails for $34.99 (90 softgels), but can be found for less through online dealers. The ingredients used in this supplement are as follows; Cold Pressed Sesame Seed Oil (500mg), 50% Sesamin Lignans (250mg), Cold Water Norwegian Omega 3 Fish Oil Concentrate (500mg), Eicosapentaenoic Acid (150mg) and Docosahaxaenoic Acid (100mg). Put simply, Man Vaporize is claimed to reduce body fat, provide antioxidant protection, promote healthy kidney and liver function, support insulin sensitivity and encourage healthy cholesterol levels. This supplement may also help reduce the storage of fat cells. You need to take one or two softgels with meals, up to three times daily.
This supplement has been available since 2011 and is easy to find online. There are no artificial dyes or colors used in Man Vaporize softgels and this supplement is gluten-free, but read on…
Negative User Reviews!
According to our Research Editor, "There are quite a few negative and discouraging customer reviews posted online for Man Vaporize. We even noticed that some major stores stopped selling this supplement."
One user commented, "This is one of the worst fat burners out there, took for a month now, only lost 1 pound, I was with my regular diet and regular exercise, waste of money."
"These pills are the worst thing ever made. They give you the most disgusting fish burps and don't help you lose any weight," said another customer.
Scroll below for one of the best products we've seen in 2015.
Lack of Real Research
There is no clinical research that proves Man Vaporize softgels work for fat loss. According to one user, "I've used 3 bottles of this product combined it with proper diet and I haven't seen the expected results."
Another customer stated, "I really didn't think that this did anything. So either sesamin doesn't work or doesn't work for me."
The research we've conducted has shown that if there is one facet of a diet program or supplement that is very troublesome (a painful/difficult exercise routine, negative customer reviews, lack of real clinical research) the probability of long-term success is pretty low. This means if Man Vaporize capsules do in fact fail to yield real results in a lot of people, this could be problematic.
The Science
First of all, the company website for Man Vaporize does not specifically address clinical studies that support this diet supplement as an effective weight loss aid. On the other hand, some studies have shown that sesame seed oil and fish oils can benefit the heart, brain and your overall health. However, we at DietSpotlight need to see real research that proves Man Vaporize capsules help with fat loss or we simply can't get behind this supplement.
The Bottom Line
We are pleased to see that Man Vaporize contains natural oils that can help fight damaging free radicals and assist with heart and brain health. However, we do not see how this supplement actually helps with fat reduction. Furthermore, if you are allergic to fish, you may not be able to use Man Vaporize.
If you really want to boost vitality, increase lean muscle mass and improve stamina, we recommend a supplement that contains clinically proven ingredients and is backed by positive user reviews.
Among the top products we've found in 2015 is one called Pronabolin. This supplement contains a proprietary blend of nine ingredients that are clinically proven to increase energy and naturally elevate testosterone levels. There's no complaints of adverse effects and user comments all over the internet reveal people are seeing excellent results.
The makers of Pronabolin are so confident in their product they're offering every customer a 120-day money-back guarantee and multiple-bottle discounts.