Updated: 09/29/2015 - Sponsored by Pronabolin
Mancore Review - Does This Muscle Building System Really Work?
Are dangerous ingredients and lack of clinical studies deal breakers?
PUBLISHED: 09/13/2015 | BY: SUMMER BANKS, SENIOR REVIEWER
Editor
's Review:
3.5
/ 5.0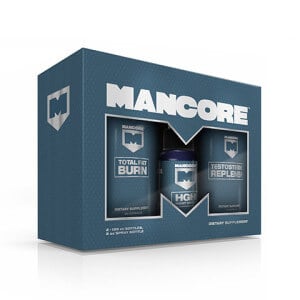 We've seen plenty of buzz concerning Mancore pills, so we created a detailed review, examining the ingredients, side effects, scientific studies and level of customer service. Plus we focused on all sorts of user reviews and dieter feedback posted on the internet. Lastly, we summed up everything we found to give you the crucial info you need.
EDITOR'S TIP:
Substitute Mancore with a proven testosterone booster such as
Pronabolin
for better results.
What You Need To Know
Mancore is a group of four different supplements, which include Total Fat Burn ($69.99), Muscle Preserve ($49.99), Testosterone Replenish and HGH Night Spray (the second two supplements are not old separately). Put simply, these supplements can be taken together on a daily basis to help elevate natural testosterone levels, burn off fat, and help build/preserve lean muscle tissue. The ingredients used include; B Vitamins, Green Tea, Caffeine Anhydrous, Synephrine HCL, White Willow Bark, Guarana Seed, Yohimbe Bark, Green Coffee Bean, Ginger Root, Loquat Leaf, Rhodiola Root, Ginkgo Biloba, Arachidonic Acid, Tribulus Terretris, Long Jack, White Button Mushroom, Cordyceps, Stinging Nettle Leaf and Bee Propolis Extract.
Mancore supplements are made by Complete Nutrition, and it appears that these products were first released in 2013. This company has been in business since 2008, and there are some customer reviews posted on the official website, but read on…
Dangerous Ingredients
"After taking a close look at the ingredients used in Mancore supplements, we encourage men to use these products with caution. Ingredients such as Synephrine HCL when combined with Caffeine can cause increased heart rate and high blood pressure. Some people have even experienced stroke and heart attack," says our research editor.
One user stated, "This product got me feeling really sick and gave me migraines each time I tried it. I would not recommend this to anybody!"
Another said, "Unfortunately just one capsule gave me Hypertension. Tried it a second time, and still raised BP."
Scroll below for one of the best products we've seen in 2015.
No Actual Clinical Studies
Unfortunately there are no clinical trial results presented on the official website for Mancore supplements. In fact, one customer complained, "After using this complex for 1 month I noticed little to no effect."
"I actually gained 6 lbs. since taking. Having to lose 30 lbs. to be in ideal weight shape, I was "HOPING" but NOT expecting, that this product would be the answer. Will keep looking!" said another.
Our research has revealed if there is a certain part of a weight loss program or diet product that is a major concern (no scientific studies, pills that cause side effects, bad taste) the actual chances of long-term results are very low. Therefore, if Mancore does fail to work as claimed for a number of people, this could be problematic.
The Science
The official website for Mancore does not provide any clinical research regarding these dietary supplements for men. We at DietSpotlight must see documented clinical studies supporting the product and its ingredients regarding weight loss. If no real science is presented, then we are leery of the diet product.
The Bottom Line
Although it's nice to see that the Mancore supplements are specifically for guys, we don't recommend these products because there is no published scientific research to support the weight loss and muscle-building claims. We couldn't find many customer reviews to support these supplements, and it's clear that some dangerous ingredients are used.
If you need to enhance muscle mass, boost free testosterone and get fit at a faster pace, we advise you to go with a testosterone supplement that is backed by real clinical studies and does contain proven muscle-building ingredients.
Among the best supplements we've found in 2015 is Pronabolin. The formula combines nine clinically researched and proven ingredients into a proprietary blend shown support energy and naturally boost testosterone levels. We found no mention of negative side effects, but users are surely talking about the great results they're seeing.
The makers of Pronabolin are so confident in their product they're offering every customer a 120-day money-back guarantee and multiple-bottle discounts.