Updated: 09/29/2015 - Sponsored by Leptigen
MangoDrin Review - Does This Belly Fat Pill Really Work?
Are dangerous ingredients and adverse effects deal breakers?
PUBLISHED: 09/10/2015 | BY: SUMMER BANKS, SENIOR REVIEWER
Editor
's Review:
3.5
/ 5.0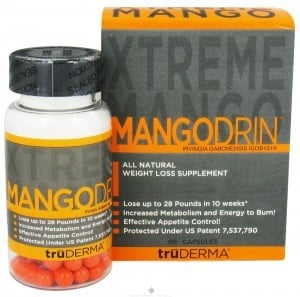 We've noticed a great deal of chatter concerning MangoDrin by truDERMA, so we did one of our comprehensive reviews, paying close attention to the side effects, ingredients, scientific research and customer service. Plus we scrutinized countless user reviews and dieter responses from around the web. At last, we summarized all of the data we found to give you the important facts you need.
EDITOR'S TIP:
Substitute MangoDrin with a proven fat burner such as
Leptigen
for better results.
What You Need To Know
MangoDrin is a weight loss formula that promises up to 28 pounds lost in only 10 weeks. Furthermore, you should see noticeable results in only 14 days. This product is intended to improve mental focus, control appetite, balance mood and boost metabolism. You should soon notice fewer food cravings and less belly fat. MangoDrin is taken twice a day, once in the morning and afternoon (with eight ounces of water). The ingredients used in this diet pill include; Synephrine Caprylate (20mg), Phenethylamine HCL (26mg), Green Tea Extract (100mg), Nettle Leaf Extract (20mg), Glucuronlactone (10mg), Yohimbe HCL (3mg), Picamillion (5mg), Caffeine (200mg), Inositol Niacinate (25mg) and 150mg of Irvingia Gabonensis (African Mango).
This weight loss supplement was first released back in 2011, and it is suitable for both women and men trying to shed unwanted pounds. You can acquire MangoDrin via the official website for $49.99 (60 capsules), and there is a 30-day money-back guarantee provided on the website, but read on…
Dangerous ingredients – Watch Out!
According to our Research Editor, "The ingredient Synephrine is used in MangoDrin, which is known as a cousin to Ephedra. While this ingredient may help with thermogenesis, it can lead to serious side effects such as heart palpitations, high blood pressure, heart attack and stroke."
One customer complained, "Pounding headaches and no change in cravings or energy. The mornings are the worst, dizzy and a tad nauseated."
"This product made me jittery and queasy after my first dose, which practically immobilized me, rather than give me energy," said another user.
Scroll below for one of the best products we've seen in 2015.
Adverse Effects –Be Careful!
From reading the customer feedback posted online for MangoDrin, it's obvious that many people experience nasty side effects. In fact, one customer stated, "I experienced a lot of gastrointestinal side effects. Felt very bloated, Very nauseated…. Discontinued use after 7 days."
Another user commented, "I tried this product but it made me very sick to my stomach and I could not keep it down."
Our research has proven that if there is some certain aspect of a fat-loss pill or diet program that is very problematic (dangerous ingredients, serious side effects, steep price tag) the actual odds of long-term weight loss are not promising. If MangoDrin does in fact lead to negative adverse effects in many people, this could be a serious issue.
The Science
Although "science" is mentioned on the official website, we could not pinpoint any clinical trial research that supports the MangoDrin weight loss claims. This is unfortunate because we at DietSpotlight need to see documented evidence that backs up the diet product and the ingredients it uses.
The Bottom Line
Some people will appreciate that MangoDrin contains stimulants to boost energy levels and improve focus, but this product may contain a bit too much. For instance, the Synephrine in this formula is not safe, since it mimics Ephedra. You should also note that plenty of customers have complained about adverse effects such as headaches and stomach pains, which is never a good sign.
If you really need to cut more pounds and trim down, we recommend you choose a diet supplement that is supported by real science, does not cost you a fortune and does not lead to side effects.
One of the finest products we've seen in 2015 is Leptigen. This supplement contains a special proprietary blend of four ingredients, which have been proven in documented clinical studies to help elevate metabolism and improve overall fat loss. You should also know that we can't locate any talk of negative adverse effects and user comments posted online express people are seeing solid results.
Also, the makers of Leptigen are so confident in their product they're offering a special trial offer, which is a good sign.