Updated: 10/06/2015 - Sponsored by Leptigen
Max Muscle Cleanse & Lean Review - Does This Cleansing Supplement Work?
Are side effects and lack of clinical support deal breakers?
PUBLISHED: 09/03/2015 | BY: SUMMER BANKS, SENIOR REVIEWER
Editor
's Review:
3.5
/ 5.0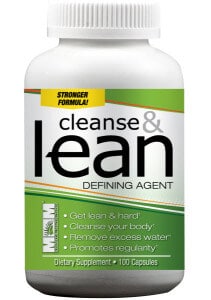 We heard a lot about Max Muscle Cleanse, so we jumped into the ingredients, side effects, customer service and scientific research. Our review of the product includes a look into hundreds of consumer comments from around the internet. We then condensed that info into a summary for you.
EDITOR'S TIP:
Combine Max Muscle Cleanse & Lean with a proven fat burner such as
Leptigen
for better results.
What You Need to Know
To start, Max Muscle Cleanse is a weight-loss supplement that contains cascara sagrada, senna leaf and dandelion root. You take one to two capsules daily to help lean out, according to the company. You can take the product on the go – one good thing.
The product, introduced by Max Muscle after 2005 when the company opened, claims to use the highest quality ingredients, which looks good. lawsuits are in this company's past. You can buy the supplement on the official website or in a retail location. We like the strong BBB rating and professional looking corporate headquarters, but read on…
Side Effects – "Ow!"
The first thing that concerned us about Max Muscle Cleanse and Lean was the potential for side effects. "Whenever a dieter takes a supplement that contains laxatives and diuretics there's cause for concern," says our Research Editor. "Products like this are only intended for short-term use."
"Currently I am taking the 2 before bed and 1 in the am. I seem to be having the opposite affect. Bloated & constipated most of the time only having the 3-4 bowl movements on a couple of days since starting the program," a user claims.
One athlete claims her body reacted badly after stopping Max Muscle Cleanse, "This is when all hell broke loose! I swelled up so fast. My abdomen was distended, making me look about 5 months pregnant. It was painful. Every part of my body was swollen: my legs, my arms, my butt…everything! My clothes didn't fit and I didn't know what was happening to my body."
Scroll below for one of the best products we've seen in 2015.
No Clinical Support?
Long-term use of laxatives for weight-loss is not considered a good option, based on clinical studies. According to the Journal of American College Health, "Serious medical problems that may occur with laxative abuse include electrolyte and fluid imbalance, structural and functional colonic changes, and allergic reactions."
Go Ask Alice from Columbia University says, "Laxatives are not designed for weight loss and can cause serious, sometimes irreversible, damage."
Our research suggests all it takes is one problem with a supplement and the chances of your long-term, weight-loss success are hindered. If Max Muscle Cleanse side effects are an on-going issue, that's a warning to dieters.
The Science
As stated above, there is no clinical support for using of laxatives or diuretics in weight-loss. Studies actually warn against long-term use of stool softeners and water pills. At DietSpotlight, science is extremely important and if a company doesn't bother to research, that's just the start of the problem.
The Bottom Line
After researching Max Muscle Cleanse the conclusion was simple. We like the large, professional company headquarters and the price is comparable to other cleanses, but we can't support this product because the weight-loss claims are not backed with research and there are some side effects to consider. Plus, we're concerned dieters may start abusing the product leading to long-term health problems.
If you're time to lose weight is now, we suggest you choose a supplement that gives you both a good price and a list of ingredients proven to help with weight-loss.
Among the finest products we've reviewed in 2015 is one called Leptigen. The ingredients are combined into a proprietary blend clinically proven to boost metabolism and help you lose fat. We couldn't find talk of harmful side effects and reviews point out great results.
Plus, the company behind Leptigen is so confident in the product, they're offering a special trial offer – good touch.