Updated: 09/29/2015 - Sponsored by Leptigen
Max Muscle Max L-Carnitine Review - Does This Diet Supplement System Work?
Are cost and lack of effectiveness deal breakers?
PUBLISHED: 09/13/2015 | BY: SUMMER BANKS, SENIOR REVIEWER
Editor
's Review:
3.5
/ 5.0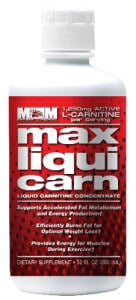 Max Muscle is a well-known diet supplement manufacturer, so naturally, we wanted to do a review on the Max Muscle Max L Carnitine. In this in-depth review, we'll discuss the side effects, ingredients, research, and customer service of this company. We've also compiled some user comments that we've found online into a concise review that gives you all the information you'll need to make a decision on whether or not to buy this diet supplement.
EDITOR'S TIP:
Combine Max Muscle Max L-Carnitine with a proven fat burner such as
Leptigen
for better results.
What You Need to Know
Max Muscle Max L Carnitine contains filtered water, glycerin, malic acid, citric acid, sodium benzoate, stevia extract, potassium sorbate, and natural flavoring. It uses Liquid Carnitine to help you burn fat efficiently during your workouts. It can be taken anywhere, and it doesn't contain ingredients that people are often allergic to (peanuts, wheat, soy, shellfish, etc.), and even qualifies as vegetarian and vegan according to the manufacturer. It's meant to be taken before your workout, and it promotes a healthy heart and fat burning.
This supplement was introduced around 2008, but the company that produces it has been around since 1995. The longevity as a company is encouraging, and the healthy ingredients make this an intriguing product. We also like the layout and user friendliness of the Max Muscle website, and this product can be purchased around the country in health supplement stores. There is a lot to like about Max Muscle Max L Carnitine, but read on…
Cost – "Holy Cow"
While this supplement itself is not inherently expensive, the manufacturer recommends that it be stacked with 7 other supplements to create an effective "stack" or combination of products to give you optimal results. "At less than $1 per serving, this product is affordable by itself," said our research editor. "But the recommended stack could cost several hundred dollars a month!"
"I couldn't afford the whole stack, but I gave it a try by itself and saw some minimal results," said one customer.
"I lost a few pounds with this, but I could've lost more if I could afford the whole combination of supplements that Max Muscle recommends," said another.
Scroll below for one of the best products we've seen in 2015.
Effectiveness – Another Concern
Another problem that I have with Max Muscle Max L Carnitine is the lack of effectiveness that some users have seen. Because of the cost of the recommended stack, most people are using this supplement by itself, so the results are minimal. According to many people that wrote online reviews, the overall effectiveness of just this individual supplement was less than impressive. "I've been using Max Muscle Max L Carnitine for a month now, and I've only lost a couple of pounds. I feel better, but most of that could be attributed to a healthier lifestyle overall," said one customer online.
"I lost a few pounds with this supplement, but the results were mostly a disappointment," said another reviewer. Many reviews had similar comments, some people did see results with the recommended stack, like this customer: "I purchased the entire combination of products recommended by Muscle Milk, and I've noticed a change in my overall fitness in the past two months."
At DietSpotlight, we've noticed that if there's a specific part of a weight loss program or diet supplement that is difficult or annoying (cost, side effects, lack of results, etc.), the likelihood of being successful in losing the desired amount of weight is drastically reduced. If Max Muscle Max L Carnitine is as ineffective as some users claim, this could be an issue for those looking to slim down quick.
We recommend that if you do decide to use this product, you go all in and purchase the entire stack to get the optimal results.
The Science
There does seem to be some scientific data proving that Liquid Carnitine is an effective weight loss tool, but there haven't been any published scientific studies proving that the product is more beneficial than a placebo when combined with diet and exercise. At DietSpotlight, it's important to have clinical studies that prove that a particular supplement is more effective than a simple placebo or cheaper alternative, so that's something we look for when researching a new product.
The Bottom Line
We were excited to review a Max Muscle product, and the plethora of material available online made it easy to find all the information we needed about Max Muscle Max L Carnitine. The product does seem to produce some good results, but the high price of getting optimal results with the entire stack and the lack of results using this supplement alone mean that we cannot recommend this product to our readers. We're also concerned that the manufacturer doesn't offer a money back guarantee or free trial to get new users hooked on their product.
If you're still looking to drop some more weight, we suggest you find a supplement that has scientifically proven results that are backed up with clinical studies. We also recommend finding something that is more affordable, and that offers a money back guarantee or a free or reduced trail offer.
One of our staff's favorite products so far in 2015 is a product called Leptigen. The makers of Leptigen have created their own blend of four ingredients that are backed by scientific data to promote fat loss and boost metabolism. In addition to the positive results that we've seen online, we haven't been able to find any negative side effects, which is a good indication that it's a safe alternative that will promote healthy weight loss.
The makers of Leptigen are now offering a special trial offer, putting their money where their mouth is and showing that they're confident that their product will help you lose the additional weight that you're sick of carrying around.