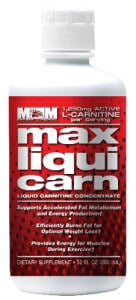 We're hearing a lot of buzz about Max Muscle Max L Carnitine. In this in-depth review, we'll discuss the side effects, ingredients, research, and customer service. We also took hundreds of user comments into consideration. With all this information in hand, we condensed and summarized to give you the bottom line.
What You Need to Know
First off, Max Muscle Max L Carnitine contains vitamin B6, pantothenic acid, sodium, l carnitine, filtered water, glycerin, malic acid, citric acid, sodium benzoate, stevia extract, potassium sorbate, and natural flavoring. You're supposed to take the supplement as one tablespoon before workouts and it is small enough to take on the go.
This product was introduced around 2008, but the company that produces it (Max Muscle) has been around since 1995. The longevity is encouraging and the healthy ingredients make this one intriguing. We also like the layout and user friendliness of the website and that it can be purchased around the country in health supplement stores. There is a lot to like about Max Muscle Max L Carnitine, but read on…
Cost – "Holy Cow?"
While Max Muscle Max L Carnitine itself is not inherently expensive, the manufacturer recommends that it be stacked with seven other supplements to create an effective combination of products to give you optimal results. "At less than $1 per serving, this one is affordable by itself," said our Research Editor. "But the recommended stack could cost several hundred dollars a month!"
"I couldn't afford the whole stack, but I gave it a try by itself and saw some minimal results," said one customer.
"I lost a few pounds with this, but I could've lost more if I could afford the whole combination of supplements that Max Muscle recommends," explains another.
Scroll below for one of the best products we've seen over the last year.
Effectiveness – "Another Concern"
Another problem with Max Muscle Max L Carnitine is the lack of effectiveness that some users have seen. Because of the cost of the recommended stack, most people are using this supplement by itself, so the results are minimal. "I've been using Max Muscle Max L Carnitine for a month now, and I've only lost a couple of pounds. I feel better, but most of that could be attributed to a healthier lifestyle overall," said one customer online.
"I lost a few pounds with this supplement, but the results were mostly a disappointment," said another reviewer.
At DietSpotlight, we've noticed that if there's a specific part of a weight-loss program or diet supplement that is difficult or annoying (cost, side effects, lack of results, etc.), the likelihood of being successful is drastically reduced. If Max Muscle Max L Carnitine is as ineffective as some users claim, this could be an issue for those looking to slim down.
The Science – "Valid?"
There haven't been any published scientific studies proving that Max Muscle Max L Carnitine is more beneficial than a placebo when combined with diet and exercise. At DietSpotlight, it's important to have clinical proof that a particular supplement is more effective than a simple placebo or cheaper alternative. In the case of this product, that support is just not there and that should concern dieters.
The Bottom Line – Does Max Muscle Max L Carnitine Work?
Alrighty then. What's up with this one? We were excited to review Max Muscle Max L Carnitine. The high price of getting optimal results with the entire stack and the lack of results using this supplement alone mean that we have doubts about recommending this product to our readers. We're also concerned that the manufacturer doesn't offer a money-back guarantee or free trial to get new users to try it out.
If you're still looking to drop some weight, we suggest you find a supplement that has scientifically proven results that are backed up with clinical studies. We also recommend looking for something that is more affordable.
Among the best products we've seen in 2016 is one called Leptigen. The company has created their own blend of four ingredients that are backed by scientific data to help promote fat loss and boost metabolism. In addition to the positive results that we've seen online, we haven't been able to find any negative side effects, which is a good indication that it's a safe alternative that will promote healthy weight-loss.
The makers of Leptigen are now offering a Special Trial Offer, putting their money where their mouth is and showing that they're confident that their product will help you lose the additional weight.