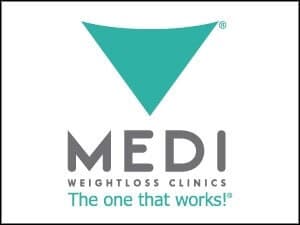 Give me two minutes and I'll tell you whether Medi-Weightloss actually works. We did one of our in-depth reviews, examining the side effects, ingredients, scientific studies and customer service quality. We also focused on hundreds of reviews and user feedback from all over the web. Moreover, we summarized all the information we found in order to give you the bottom line.
EDITOR'S TIP:
Combine Medi-Weightloss with a proven fat burner such as
Leptigen
for better results.
What You Need To Know
To start, Medi-Weightloss is a regulated program that's under the supervision of a licensed physician. This program involves a complete lifestyle change, as well as visiting a clinic. You learn strategies to keep the pounds off and become better educated about diet and appetite management. There are three phases involved, which include the Acute Phase (1), Short-Term Maintenance Phase (2) and the Wellness Phase (3). Initially you receive a complete medical exam with a blood panel. There are also weekly consultations, overall health/body analysis, nutrition education plans and access to recipes online. Signature supplements are provided, as well as medications if needed. Nearly all of the products you use are portable, a bonus.
Medi-Weightloss has been around since 2004, and is fine for women and men of all ages. Healthy eating is encouraged, and some supplements are provided to help you reach your weight-loss goals, but read on…
The Price – "Ouch?"
The first problem we found in multiple follower reviews pertains to Medi-Weightloss price. According to our Research Editor, "The initial consultation costs around $300, and then you will spend around $70 to $80 per week for the program. Needless to say, many people may not be able to afford this."
One customer said, "It's expensive – initial consultation, basic weekly fee $70 and additional fees for pills/injections they require or strongly recommend every month. Not everything is inclusive, so my best estimate to lose 40 lbs in about 4-5 months is $1,700."
"Wayy too expensive for me," said another dieter.
Depending on the experience you have with Medi-Weightloss, you may have the feeling the cost is well worth it. As one dieter said, "The program was worth every penny."
Another found out they didn't have to pay full price, "I was informed that my insurance would begin covering my visits following a $25 co-pay."
Scroll below for one of the best products we've seen over the last year.
Not Enough Clinic Locations – "Where Is It?"
There is a "find a clinic" feature on the official Medi-Weightloss website. You enter your zip code to find a nearby clinic, but many dieters are nowhere near one of these locations. One customer said, "Nearest clinic is 102 miles. That's just too far."
Another complained, "No clinics for 50 miles, I guess it's not for me."
There's no way around the small number of locations. We found plenty of dieters who were upset by this, but did find one that felt the drive was not that bad at all. "I drive 125 miles one way for my visits," said one customer.
According to our research, if there is one particular facet of a weight-loss program or diet pill that is very burdensome (lack of clinic locations, pills with side effects, high price) the chances of long-term success is quite low. Therefore, if Medi-Weightloss does not have locations nearby, this could be a major problem.
The Science – "Real Support?"
According to the company website, the Medi-Weightloss program is clinically proven to yield real weight-loss results. After all, there are licensed physicians assisting customers with proper medications and individual treatment instructions. There's little doubt that refining your lifestyle to incorporate better decisions will help you lose more, but there's no reason to think this one is better than other similar plans. We at DietSpotlight always need to see documented science that supports the claims. When that is not provided, we expect the dieter to keep looking for a solution.
The Bottom Line – Does Medi-Weightloss Work?
Yeah well, are you ready for our take on Medi-Weightloss? While it is good that it is regulated by licensed physicians, we have reservations about this diet program. Put simply, it's not reasonable to think that all dieters are willing to drive lengthy distances to find the nearest clinic. Also, the overall price of this program is just too high for a lot of people to handle.
Those interested in losing weight more quickly, we suggest going with a diet supplement that's supported by real scientific research and does not cost you an utter fortune. One that doesn't require you to travel hundreds of miles.
Among the best products we've seen in 2016 is one called Leptigen. The formula is a blend of four ingredients that have been shown in published scientific research to help spark metabolism and ignite fat loss. Also, we haven't pinpointed any complaints regarding harmful side effects and dieter feedback found on the web shows people are seeing awesome results.
Plus, the makers of Leptigen are so confident in their formula they've chosen to offer a Special Trial Offer, a good sign.