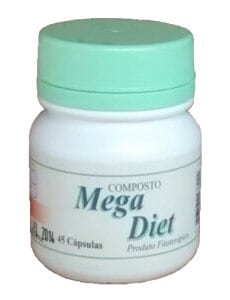 It's remarkable how quickly weight loss supplements enter and leave the market. We often see those products which are less effective leave as rapidly as they entered. While looking at Mega Diet we realized the company that makes it has made some major changes, so we examined it further to find out what you need to know.
EDITOR'S TIP:
Substitute Mega Diet with a proven fat burner such as
Leptigen
for better results.
What You Need to Know
Mega Diet was a weight loss supplement manufactured by Clark Enterprises. While it is still available from some online retailers, the official website does not appear to promote the product any longer. The cost of a monthly supply of Mega Diet is about $100.
Mega Diet was reported to help dieters lose weight up to 200 times more quickly than with diet or exercise alone, but read on…
Continuing Support?
While it is still possible to find Mega Diet occasionally, the company is no longer advertising the product or supporting it in any way. This means that customers who decide to take the risk and purchase it will have no way to receive a refund should it not work for them.
According to our research editor, "Usually, a company will only cease support and advertising for a product if they know the product is inferior."
Scroll below for one of the best products we've seen over the last year.
Ingredients
Ingredients in Mega Diet include 7-Keto, cerecal, synephrine, green tea leaf extract, synephrine, royal jelly, and ginseng.
Green tea has the ability to increase metabolism and energy. Synephrine has thermogenic abilities. 7-Keto was reported to have thermogenic properties as well, but research supporting that was never convening. However, most of the remaining ingredients have minimal weight loss properties.
The Science
While the company website does provide some diet and exercise tips that do have scientific basis, there is no scientific evidence that Mega Diet is an effective weight loss supplement. There is actually very little scientific support that most of the main ingredients were effective in promoting weight loss on their own.
The Bottom Line
When we consider the extremely high cost of the product when it can be found, the lack of scientific evidence supporting the product as a whole or the individual ingredients, and the fact that even the manufacturer no longer supports their own product, we simply cannot recommend Mega Diet.
Individuals who are interested in a product that will help facilitate their weight loss goals would be far better served by looking for a supplement that has scientifically proven ingredients, and the full support of the company that makes it.
We have found both of these requirements in Leptigen. The company that makes the supplement has taken the time to support the weight loss claims with clinically tested ingredients. Further, we found no negative reviews from consumers who have tried the product, which indicates it is working as advertised.
In fact, the company that makes Leptigen is so confident that their product will satisfy dieters, they are giving new customers a special trial offer, which we find generous and reassuring.