Updated: 09/29/2015 - Sponsored by Leptigen
Megathin Review - Does This Diet Supplement Really Work?
Are unproven ingredients and lack of clinical research deal breakers?
PUBLISHED: 09/03/2015 | BY: SUMMER BANKS, SENIOR REVIEWER
Editor
's Review:
2.9
/ 5.0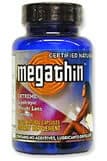 There has been plenty of talk surrounding Megathin weight loss pills, so we took it upon ourselves to write a comprehensive review, examining the side effects, ingredients, customer care and scientific studies. We additionally scrutinized hundreds of dieter reviews and user responses from all over the web. Finally, we condensed everything we found to provide you with the facts you need.
EDITOR'S TIP:
Substitute Megathin with a proven fat burner such as
Leptigen
for better results.
What You Need To Know
Megathin is boasted as a natural weight loss supplement for both women and men. This formula is claimed to boost metabolism, suppress appetite and elevate energy levels. According to the website, this diet pill is very safe and effective, and rivals other over-the-counter weight loss products. It should be taken in the morning and evening with water (three capsules is a serving). The ingredients used in Megathin are; Sarsaparilla Root, Peppermint Leaf, Siberian Ginseng, Vanadium, Manganese, Ginger Root, Chromium, Damiana Leaf, Gotu Kola, Selenium, Nettle Leaf, Inositol, Choline Bitartrate, Bitaine, L-Carnitine and Guarana Seed.
From what we could gather, Megathin has been available since 2013 and costs around $50 per bottle, but there are bulk order discounts available. This supplement is sold with a 90-day money-back guarantee, but read on…
Unproven Ingredients for Weight Loss!
"The ingredients used in Megathin include Ginger Root, Damiana Leaf, Ginseng and Guarana, which are not proven to help with weight reduction and fat loss. In other words, this supplement relies on ingredients that have not been proven to cause weight loss," says our Research Editor.
One customer stated, "Took Megathin for 30 days, but no weight loss yet."
According to another dieter, "I don't notice any appetite loss or energy boost at all."
Scroll below for one of the best products we've seen in 2015.
Lack of Clinical Studies
We did not find any science that supports Megathin weight loss capsules. This lack of clinical studies is concerning. One dieter commented, "Does this stuff really work. It says it's one of the most powerful formulas out there. I'm not seeing it."
"No weight loss for me. I won't buy Megathin pills again," said another user.
According to our research, if there is a specific part of a weight loss formula or diet program that is very concerning (unproven key ingredients, lack of clinical research, high price) the chances of prolonged fat-loss results are not good. Therefore if Megathin uses unproven weight
loss ingredients that fail to produce any real results in numerous dieters, this could be a serious problem.
The Science
At DietSpotlight, we need to see documented clinical studies that support the diet pill or weight loss supplement and the ingredients it uses. Sadly, there is no published science or studies that prove Megathin capsules actually aid with weight reduction or fat loss. With this diet pill, we unfortunately see a big red flag.
The Bottom Line
It's obvious that Megathin makes some serious weight loss promises. However, there really doesn't seem to be any evidence that supports Megathin capsules for solid weight reduction. While it's good to see that natural ingredients are used, the negative customer reviews are enough to deter many dieters.
For those who want to see more significant fat loss, we encourage you to try a weight loss supplement that is supported by both positive user reviews and clinical trial results.
Among the most promising weight loss products we've spotted in 2015 is leptigen. This diet supplement contains a blend of four key ingredients, which have been proven in published clinical trial research to help increase fat loss and kick-start metabolism. Furthermore, we can't locate any customer complaints regarding negative adverse effects and user reviews posted on the web show people are seeing excellent results.
Also, the makers of Leptigen are so confident in their product they're offering a special trial offer, which is a good sign.