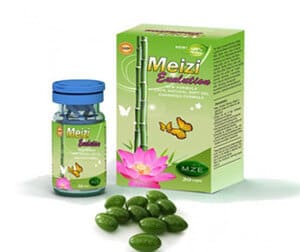 As you may have noticed, there's been a great deal of online discussion regarding Meizi Evolution weight loss pills, so we decided to create a comprehensive review, examining the side effects, ingredients, clinical research and overall customer care. Furthermore, we scrutinized plenty of online user reviews and dieter responses. Finally, we wrapped it all up to provide you with the facts you need.
EDITOR'S TIP:
Substitute Meizi Evolution with a proven fat burner such as
Leptigen
for better results.
What You Need To Know
Meizi Evolution is boasted as a botanical slimming pill that helps with fast weight loss. You simply need to take one capsule each day before breakfast. Specifically, this diet pill is claimed to "restrain appetite" and encourage slimming. The ingredients used in Meizi Evolution capsules include the following; Zisu Extract, Vegetable Oil, Bamboo Shoot, Lotus Leaf Extract, Oriental Water Plantain and Psyllium Husk. From what we gathered, both women and men trying to lose weight can take this supplement.
This diet product has been available since 2012 and it can be purchased online for $45 (two bottles). Some natural plant extracts are used in Meizi Evolution capsules and you only need to take one pill per day, but read on…
FDA Warning – Be Cautious!
"While researching this weight loss pill, we discovered an FDA warning that was posted in 2013. According to the fda.gov website, Meizi Evolution capsules contain a hidden drug called Sibutramine. This drug is a controlled substance that was banned back in October of 2010," says our Research Editor.
One user commented, "This diet pill made me very sick! Never again!"
According to another customer, "Meizi Evolution is not safe…leads to side effects…don't take it."
Scroll below for one of the best products we've seen in 2015.
Unproven Fat-Loss Ingredients
We closely examined the ingredients used in Meizi Evolution capsules, and none of them are proven for weight loss. While Psyllium Husk does provide fiber, it does not speed up fat loss. One user said, "No weight loss at all, and I used the entire bottle."
"Doesn't work! Don't fall for it," said another customer.
Our research has shown that if there is a certain part of a weight loss formula or diet program that is seriously annoying or concerning (unproven key ingredients, FDA warning, a difficult exercise) the chances of real fat loss for the long run are not good. In other words, if Meizi
Evolution pills are dangerous and fail to yield real fat-loss results in a lot of dieters, this could be a big problem.
The Science
Sadly we could not locate any real science that supports Meizi Evolution capsules for weight loss. The ingredients used in this supplement are not backed by clinical studies, and apparently a dangerous substance is used as well. At DietSpotlight, we prefer to see published studies that support the dietary supplement and the ingredients it contains.
The Bottom Line
It's clear that Meizi Evolution capsules are not backed by solid research. It's convenient that you only have to take one capsule per day, but it looks like this diet formula is not safe. Moreover, we discovered several complaints posted online by women and men who've tried Meizi Evolution.
For those who want to see faster fat-loss results, we recommend you try a diet supplement that is safe, supported by real science and contains effective ingredients for weight loss.
Among the top-rated diet products we've spotted in 2015 is Leptigen. This weight loss supplement uses a blend of four ingredients, which have been shown in documented clinical trial research to kick-start metabolism and enhance fat loss. Moreover, we can't find any complaints of negative adverse effects and user feedback on the internet reveals people are seeing excellent results.
Also, the makers of Leptigen are so confident in their product they're offering a Special Trial Offer, which is a good sign.