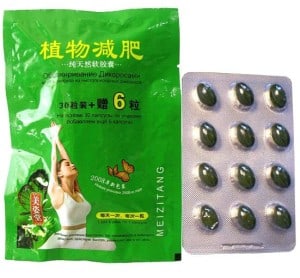 I'm obsessed with finding diet products that actually work. Let's find out if Meizitang is one of them. We did one of our comprehensive reviews, investigating the side effects, ingredients, customer-service quality and scientific research. Plus we looked at hundreds of user reviews and comments from all over the web. Lastly, we summed up all of the facts and feedback we found to give you the bottom line.
EDITOR'S TIP:
Substitute Meizitang with a proven fat burner such as
Leptigen
for better results.
What You Need To Know
First off, Meizitang is a Chinese weight loss pill that is available over-the-counter. It contains the following ingredients: Lotus Leaf, Bamboo Shoot, Psyllium Husk, Artemesia Dracunculua, Jobstears and Xianxian Cao. This diet pill only needs to be taken once a day, in the morning. It is claimed to encourage fast weight loss, lower blood pressure, boost metabolism and prevent fat from being stored in the body. There are a few types of Meizitang weight loss pills available, all of which are sold online. The price is generally around $15 per pack (12 capsules).
We are not sure when Meizitang pills first emerged, but it's easy to find online stores that sell this diet product. Several natural ingredients are used in this weight loss supplement, and both women and men can use Meizitang capsules or softgels, but read on…
Dangerous Ingredient – Is This Product Even Safe?
The first concern we had with Meizitang pills is the dangerous ingredient they contain. According to our Research Editor, "The FDA has warned that some Meizitang pills contain the hidden ingredient Sibutramine, which is a controlled substance that was pulled from the market back in 2010."
The FDA states, "The product poses a threat to consumers because Sibutramine is known to substantially increase blood pressure and/or pulse rate in some patients and may present a significant risk for patients with a history of coronary artery disease, congestive heart failure, arrhythmias, or stroke."
One customer commented, "I talked to my doctor about Meizitang diet pills, and he says they're very dangerous."
Scroll below for one of the best products we've seen over the last year.
Another Concern – Side Effects!
It's clear that some people have experienced side effects after taking Meizitang pills. One person said, "I started having extremely bad headaches and had only been on the Meizitang for 4 days and had to stop!"
"This pill makes my heart race like crazy and I start to feel really nauseous," revealed another user.
The extensive research we've done has proven that if there is a certain part of a diet pill or weight loss program that is very troublesome (dangerous ingredients, side effects, unpleasant taste) the chances of lasting results are slim. This means if Meizitang pills do in fact cause side effects in a lot of people, this could be a big problem.
What About Actual Science?
We at DietSpotlight like to see some actual science that supports the diet product we're investigating. As for Meizitang, we could not pinpoint any solid clinical research that backs up this diet product and its weight loss claims. Furthermore, if Meizitang contains a hidden ingredient that is dangerous, this is a serious deal breaker.
The Bottom Line: Does Meizitang Work?
Now the moment you've been waiting for: our bottom line on Meizitang. Well, we like that Meizitang diet pills contain some natural herbs and that this supplement is easy to find online. But we have some reservations about Meizitang because it's not supported by any actual clinical research. Also, we're concerned about the dangerous ingredient used in this diet pill, as well as the side effects it can lead to.
If you'd like to drop more weight, then we suggest you go with a diet product that contains clinically proven ingredients, does not lead to any unpleasant side effects and doesn't contain any dangerous or hidden substances.
Among the best products we've seen in 2015 is one called Leptigen. This supplement uses a proprietary blend of four key ingredients, which have been proven in published clinical research to help boost metabolism and increase fat loss. Also, we can't find any talk of unpleasant side effects and user comments posted online indicate people are seeing great results.
The makers of Leptigen are so sure about their product they're offering a Special Trial Offer, which is a positive sign.