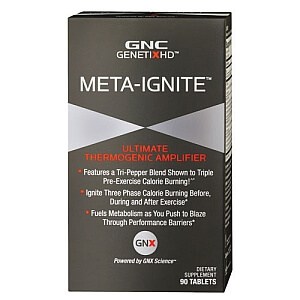 97% of dieters just want a supplement that works. Yeah, we're still not sure what's with the other 3% either. We've heard plenty of chatter about Meta Ignite from GNC, so we decided to create a comprehensive review, examining the ingredients, side effects, clinical studies and overall customer care. We additionally read through hundreds of experiences from the internet. At this point we summed up everything to give you the info you need.
What You Need To Know
First off, Meta Ignite is part of the GenetixHD range of products available from GNC. The ingredients are niacin, pantothenic acid, caffeine anhydrous, black pepper extract, guarana seed, black tea leaf, MetaNatural grape skin and seed, ginger root, MetaNatural gold grape seed, dill weed, white willow bark, ResVida resveratrol, cinnamon bark powder, L-carnitine, prickly pear cactus leaf, cloves bud, N-acetyl-L-cysteine, D-glucuronolactone, taurine, L-tyrosine and green tea leaf. This supplement is touted as an "intense neuro metabolic activator" that helps increase calorie-burning by 300 percent, enhance focus, boost thermogenesis and provide intense energy. Three tablets of Meta Ignite is a serving, which should be taken daily.
Meta Ignite was released back in 2013, and can be purchased online for $38. This supplement contains some natural ingredients and may help give you a boost for your daily workouts, but read on…
Fad Diet Ingredients – "Not Working?"
One of the first things we noticed about Meta Ignite ingredients was that none are really associated with weight-loss. "This product does not have a formula that one would consider effective," offers our Research Editor. "You can look high and low and there's nothing to prove that number on the scale will drop."
According to one user, "This product sucks. Hands down. It's the first supplement I've ever taken, first of all and it gave me NO energy only made me light headed when I got up too fast. And always made me extra hungry .. Yea useless unless you would like to add a few pounds."
"Does not seem to work for me," said another customer.
Scroll below for one of the best products we've seen over the last year.
Adverse Effects – "Another Concern"
Judging from the customer feedback we found online, some dieters definitely experience side effects while taking Meta Ignite tablets. One user commented, "It resulted in me having to go to an Urgent Care late at night (with my wife there, watching, worried, and tearful–I am 27 years old!) and the next day got a full cardiology check/EKG/etc. with my primary care doctor- I had symptoms of a severe panic attack for 2.5 days (chest discomfort, chills, heart palpitations,
sense of worry/anxiety, shortness of breaths, etc.) plus an odd symptom of tingling in my left arm that is very uncomfortable after a few hours let alone a few days."
Another customer said, "This product needs to list the side effects. I've only taken it for 3 days and have suffered from insomnia, restlessness, abdominal pains and a watery stool for a week. I stopped taken it 2 days ago, but still don't feel back to normal."
Our research has revealed that if there is a certain facet of a weight-loss pill or diet system that is especially bothersome (fad ingredients, steep price tag, side effects) the odds of real fat loss for the long run are not good. This means if Meta Ignite does cause adverse reactions in a lot of users, this could be a major issue.
The Science – "Effective?"
While there is no clinical research mentioned on the official website for Meta Ignite tablets, there is a "double-blind study" addressed on the bottle, which involved 25 participants. But, this does not really tell us much about how effective Meta Ignite is. At DietSpotlight, we prefer to see documented scientific proof that support the weight-loss supplement and the ingredients it contains.
The Bottom Line – Does Meta Ignite Work?
So, are we already in the car speeding out for this one? We do appreciate that Meta Ignite is made by GNC, which is a supplement company that has been around for decades. However, after sorting through the user reviews we found on dealer websites like Amazon, we are not very impressed with this diet pill and that means we have doubts about giving our recommendation. Moreover, we are not convinced that Meta Ignite helps you burn off 300% more calories. This is a pretty extreme claim.
If you need to slim down faster, we recommend you select a diet formula that uses clinically proven ingredients, does not cause adverse effects and is supported by positive dieter reviews.
Among the best products we've seen in 2016 is one called Leptigen. This diet supplement uses four unique ingredients, which have been shown in documented clinical studies to help boost metabolism and improve fat loss. Moreover, we have not located any user complaints concerning bad side effects and user comments posted online indicate people are seeing real results.
Also, the company responsible for Leptigen is so confident in their product they're offering a Special Trial Offer, quite the good sign.