Updated: 09/29/2015 - Sponsored by Leptigen
Metabo Up Review - Does This Weight-Loss Supplement Work?
Are side effects and ineffectiveness deal breakers?
PUBLISHED: 09/09/2015 | BY: SUMMER BANKS, SENIOR REVIEWER
Editor
's Review:
3.2
/ 5.0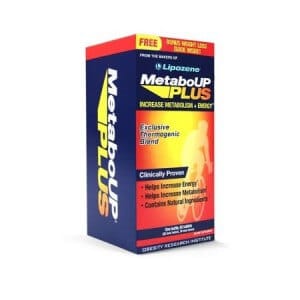 People are intrigued by Metabo Up, so we focused on ingredients, side effects, clinical studies and customer relations. Additionally, we investigated user comments and reviews. We then summarized and condensed to give you the info you need.
EDITOR'S TIP:
Substitute Metabo Up with a proven fat burner such as
Leptigen
for better results.
What You Need to Know
First off, the Metabo Up ingredients include green tea extract, guarana seed extract, caffeine, oolong tea leaf extract, kola nut extract, cayenne fruit extract and B-vitamins. When you take two capsules, once per day, the company states the product will help you lose more weight. You can take the pills anywhere you go, a positive.
The product was introduced in 2003 by Obesity Research Institute, makers of Lipozene. Due to false advertising, ORI has had its share of lawsuits. We noticed that the supplement contains no artificial ingredients, considered a benefit. It is available to purchase on the official website and through various retailers. We do like the money-back guarantee and longevity of the company, but read on…
Side Effects – Stomach Turning
The first thing that could cause an issue is Metabo Up side effects. "Dieters expect increased energy, a boost to metabolism and more from a diet pill," says our Research Editor. "What they don't expect is to feel terrible after taking the product."
"I have had diarrhea most nights with bloating of my stomach," said one dieter.
"I get bad stomach cramps and diarrhea and no weight loss. I have taken these for 2 months, if anything I have gained weight and a bloated stomach," offers a consumer.
Scroll below for one of the best products we've seen in 2015.
FDA Rulings
Obesity Research Institute was warned by the FDA in March 2014. According to the letter, statements on the official website were more medical than allowed by law. The company was told to remove them and contact the government within 15 days to report the changes.
Class Action Lawsuit – Another Concern
Metabo Up has had some legal concerns. In April 2011, the company behind the supplement was involved in a class action lawsuit. The concerns centered on unrealistic weight-loss claims and product effectiveness. A total of $5 million was awarded in the case.
Ineffectiveness – No Results
After reviewing forum posts, the same issues came up time and again, Metabo Up doesn't work. Many dieters have tried it for months and haven't noticed results. "Over the two month period my wife lost no weight. She may as well have been taking powdered sugar pills," reported a consumer.
"Didn't lose a pound and I took it exactly as the directions specified," stated a user.
"Does nothing at all that I can see. No extra energy, no extra weight loss, NOTHING! Save your $$," commented a customer.
After extensive research, we found that any part of a diet system seen as problematic, such as an ineffective product, could hinder long-term success. If Metabo Up does not produce results, there are concerns.
The Science
According to the website, the Metabo Up ingredients are "clinically proven," to boost energy and metabolism. There are some good parts of the formula, but the company doesn't even bother to list those studies. We found no scientific proof the supplement works to increase weight-loss. If there's no science, why would a dieter want to invest any money?
The Bottom Line
After completing an exhaustive look at Metabo Up, we've reached a verdict. There are some highlights like the longevity in the industry and a few positive customer comments, but we can't recommend it because the weight-loss claims aren't supported by published clinical research. We also have concerns about the FDA judgments and the class action lawsuit.
If you like to rock your best body, we suggest going with a supplement that saves you money and contains ingredients backed by published clinical studies.
Among the best products we've seen in 2015 is one called Leptigen. The formula consists of a four-ingredient proprietary blend, shown in published scientific research to ignite fat loss and enhance metabolism. Dieters aren't talking about negative side effects and reviews around the web report people seeing exceptional results.
Also, the makers of Leptigen are confident enough in their product to provide a Special Trial Offer, which is a good decision.