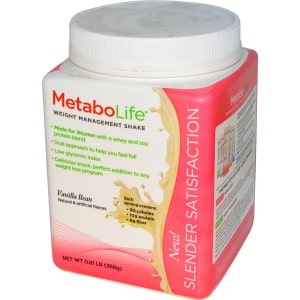 What in the world is Metabolife? And does it work? These are the questions I've been obsessing over all week. I decided to do an in-depth analysis of the program, analyzing the ingredients, checking out the customer satisfaction ratings, looking for side effects, and mining for clinical studies. I even looked through forums and comment sections to track down user reviews. Here is the condensed version of that research.
EDITOR'S TIP:
Combine Metabolife with a proven fat burner such as
Leptigen
for better results.
What You Need to Know
In a nutshell, what is Metabolife? This product is more than just a bottle of pills–it's more of a program, and the customer chooses between a collection of different products to suit his/her needs. Metabolife is marketed as a 2-stage program. Here is a chart that breaks down which products you can choose from and what the ingredients are in each.
Stage One (Choose 1 of the following)
Stage Two (Choose one)
Metabolife Ultra
• (Calcium, Chromium, Sodium, Potassium, Proprietary Blend, Caffeine, Maltodextrin, Microcrystalline Cellulose, Croscarmellose Sodium, Stearic Acid, Silica, Dextrin, Dextrose, Soy Lecithin, Sodium Carboxymethylcellulose, Sodium Citrate)
Extreme Energy
• Niacin, Pantothenic Acid, Magnesium, Proprietary Blend, Maltodextrin, Modified cellulose, Caffeine, Dicalcium Phosphate, Stearic Acid, Dextrin, Red 40, Silica, Polyethylene Glycol, Dextrose, Soy Lecithin, Titanium Dioxide, Glycerin, Blue 2, Sodium Carboxymethylcellulose, Sodium Citrate.
Metabolife Caffeine Free
• Thiamin, Riboflavin, Niacin, Vitamin B6, Pantothenic Acid, Calcium, Chromium, Sodium, Potassium, SuperCitriMax Garcinia extract.
Break Through
• Proprietary Blend, Caffeine, Maltodextrin, Modified Cellulose, Stearic Acid, Croscarmellose Sodium, Silica, Sodium Bicarbonate, Citric Acid, Glycerin.
Metabolife Green Tea Extract
• Calcium, Copper, Chromium, Sodium, Potassium, Proprietary Blend, Maltodextrin, Caffeine, Microcrystalline Cellulose, Croscarmellose Sodium, Stearic Acid, Sodium Bicarbonate, Dextrin, Silica, Citric Acid, Dextrose, Soy Lecithin, Sodium Carboxymethylcellulose, Sodium Citrate.
One positive aspect to the program is that ingredients are clearly listed, so there's no real guesswork involved.
Metabolife is run by a company called Twin Labs, which claims to be over 50 years old. The collection of Metabolife products is available on the Metabolife website, although it doesn't look like there are special deals when you buy the package as a whole. Each bottle lasts for about 15 days–two bottles of each supplement are needed per month. We like the fact that users don't have to grapple with foul-tasting mixes or shakes, and the pills seem pretty easy to use, but read on…
Scroll below for one of the best products we've seen over the last year.
Our First Concern–Are Customers in Danger of Side Effects?
As we were looking through the lists of ingredients, we began to wonder about side effects. Further review of the user comments confirmed our concerns. "There are some ingredients in the Metabolife program that should have at least a slight impact on weight loss, like green tea extract, chromium, Super Citrimax, etc.," said our research editor, "but if you look closely at the labels, you see caffeine, caffeine, and more caffeine. Besides the side effects associated with the other ingredients, caffeine can affect certain people in a really negative way." Let's see what some comments from around the web had to say.
"I only took it two times daily, because if I took it more than that, I wouldn't be able to sleep and my heart would feel like it was going to explode," said one user.
"It made my heart race and made me feel very uncomfortable," said another. "How can a product be considered caffeine free when it contains as much as 75 mg of caffeine in it?" said a third user. Apparently, some of the marketing materials claimed "caffeine-free" status, even though the supplements are packed with caffeine-laden ingredients like yerba mate.
Lack of Results–Another Concern
We were also disappointed by the lack of results from a program as complex as Metabolife. "This just isn't an effective product. I would not recommend it if asked," one reviewer said. "This did absolutely nothing. Didn't give me energy or suppress my appetite. Waste of money," said another.
The lack of results is augmented by the fact that Metabolife is an expensive product to keep up with–each bottle is only good for about 15 days. Metabolife Ultra, one of the more popular choices, will cost about $50.00 per month if you follow the recommended dosage. Adding the stage 2 supplement to your schedule will only increase the cost as Extreme Energy and Break Through are $40/mo and $60/mo respectively. The main concern here is that the ingredients found in Metabolife don't warrant that kind of price tag. Things like green tea extract, citrimax, and caffeine can be found at a fraction of that cost.
We have found that flawed supplements don't help users achieve long-lasting results. If it is true that Metabolife causes strong caffeine-related side effects, and if it really isn't worth the high price tag because of the poor results, then customers will likely drop the supplement before it helps them lose weight.
What About the Science? Is Metabolife Clinically Proven?
Metabolife claims that it features ingredients that have been proven in clinical research, and this is largely true; however, Metabolife system as a whole isn't verified to work, and it isn't under regulation by the FDA at all.
What's the Bottom Line?
This product has some interesting features, and we like the transparency regarding ingredients. The main problem, though, is that the ingredients simply aren't worth the price tag, and there is too much caffeine for many consumers to take it without side effects.
If you are still in need of a supplement to help you drop a few pounds, we suggest finding a product that will offer more bang for your buck–don't settle for mediocre ingredients.
We've seen a lot of supplements in 2016, but one of the best is a product called Leptigen. It blends 4 ingredients in a proprietary blend, and these ingredients have been proven in clinical research to burn fat and boost metabolism. Upon reviewing user comments, sentiment is overwhelmingly positive and harmful side effects aren't an issue.
The makers of Leptigen are even offering a Special Trial Offer for now, which is always a good sign.