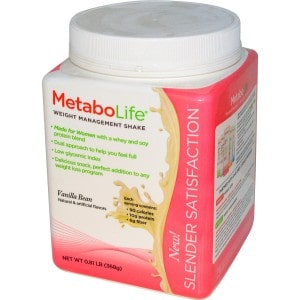 You're about to learn everything you need to know about Metabolife. Here at DietSpotlight, we conducted a thorough investigation, scrutinizing the ingredients, side effects, scientific studies and customer-service quality. Plus we looked at hundreds of user reviews and comments from all over the web. At last, we summarized and condensed the data we collected to give you the important information you need.
What You Need To Know
Firstly, Metabolife supplements include Extreme Energy, Weight Management Shake, and Ultra Advanced Weight-Loss Formula. The ingredients include guarana seed, Asian ginseng, green tea, yerba mate, eleuthero extract, whey protein concentrate, garcinia cambogia, caffeine, vitamins and minerals. The products are intended to help boost energy levels, reduce appetite and aid with weight reduction.
From what we can tell, Metabolife has been around since 1995. These products are available through online dealers and the official website. A few natural ingredients are used and we found some positive comments, but read on…
Fad Ingredients – "Concerning?"
The first issue we came across is with Metabolife ingredients. According to our Research Editor, "Some supplements, such as the Ultra Advanced Weight-Loss Formula, contain fad ingredients. One example is garcinia cambogia, which is the primary component in this diet aid. Unfortunately there is no clinical research that links this substance to real weight reduction."
One customer reported, "Didn't lose any weight after using the product for 3 months. Very disappointing."
Then again, a different user stated, "I find it helps with my energy and curbs my appetite."
"Didn't do anything for me as an appetite suppressant. It did give me energy though," commented another.
Scroll below for one of the best products we've seen over the last year.
Side Effects – "Watch Out"
Another concern we have is Metabolife side effects. There are some customer reports of jitteriness, headache, loose stool, nausea and stomach discomfort. In fact, one user revealed, "Gives me serious diarrhea. It's just not worth it."
However, not all customers experienced side effects with Metabolife products. One person stated, "Upset my stomach a bit at first, but overall, it's pretty good."
Another said this, "Gave me quite a bit of energy, but no miracle pill. Darn it."
Our research has shown if there is a specific aspect of a weight-loss formula or diet program that's especially difficult or concerning (fad ingredients, side effects, user complaints) the odds of real results for the long term are not good. This means if Metabolife supplements do in fact lead to unpleasant effects in a lot of customers, this could be a serious problem.
The Science – "Is Any Presented?"
First off, some Metabolife supplements do contain green tea and caffeine. These ingredients have been shown to help boost metabolism and increase energy levels. On the other hand, we could not pinpoint any clinical research to back up this company's weight-loss and health claims. This is concerning, because we at DietSpotlight prefer to see some actual science that supports the products we investigate.
The Bottom Line – Does Metabolife Work?
So, should you run out and buy a Metabolife supplement? Well, to start, we like that all of these products are easy to find online. It's also nice to see that these formulas do contain some natural herbs. On the other hand, we have some reservations about this company because no solid clinical research is presented. Furthermore, we're concerned about the unpleasant side effects some users experience. Not to mention, the fad ingredients that are used.
If you'd like to drop more pounds, then we suggest you choose a diet product that does not rely on any fad ingredients, is backed by solid science and does not lead to any harmful side effects.
Among the best products we've seen in 2016 is one called Leptigen. Its formula is a unique blend of four key ingredients that have been shown to help ignite metabolism and improve fat loss. We can't find any discouraging talk or user complaints, and customer feedback posted online reveals people are seeing substantial results.
The makers of Leptigen are so confident in their product they're offering a Special Trial Offer, which is very encouraging.