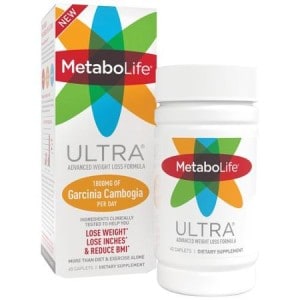 MetaboLife Ultra company employees, have you ever taken your own product? Well, we conducted one of our detailed reviews, focusing closely on the ingredients, side effects, scientific research and level of customer care. We additionally looked at hundreds of user comments and dieter reviews posted all over the web. Lastly, we summarized all the data and feedback we found to give you the information you need.
EDITOR'S TIP:
Substitute Metabolife Ultra with a proven fat burner such as
Leptigen
for better results.
What You Need To Know
MetaboLife Ultra is an over-the-counter weight loss formula that is available online and in stores like Walmart for $16. This supplement is fine for women and men alike, and it's directed to be taken three times a day (30-60 minutes before meals). MetaboLife Ultra is supposed to enhance energy levels, suppress appetite and burn off fat. The ingredients in this supplement are; Caffeine, Co-Enzyme Q-10, Calcium, Chromium, Potassium and SuperCitriMax Garcinia Cambogia Fruit Extract. It's important not to take more than six capsules daily.
It appears that MetaboLife Ultra has been around since 2005 and this supplement can be conveniently purchased online through stores such as Amazon. This product provides some minerals and the key ingredient is natural, but read on…
Side Effects – A Consideration?
According to our Research Editor, "It is clear from reading customer reviews that MetaboLife Ultra can cause side effects such as dizziness, headache, stomach pains, emotional changes, shakiness and anxiety. Naturally this is very concerning."
One user stated, "They ask you to take it 3 times a day, with 2 pills. If you skip a dose, you feel dizzy and have a big headache. I was on it for a bottle's worth and saw nothing. I exercised regularly and even ate healthier. But still no change."
"It has made me so shaky that I end up eating trying to stop the shaking. I'm not loosing weight, and upset that I wasted my money!," said another customer.
Scroll below for one of the best products we've seen over the last year.
Negative User Reviews – Another Concern
We found plenty of negative user reviews for MetaboLife Ultra posted online. According to one customer, "Didn't lose any weight after using the product for 3 months. Very disappointing."
Another user commented, "This did absolutely nothing. Didn't give me energy or suppress my appetite. Waste of money."
The extensive research we've done has revealed that if there is some part of a diet supplement or weight loss program that is quite burdensome (side effects, negative user reviews, unpleasant taste) the probability of lasting weight loss is low. In other words, if MetaboLife Ultra does in fact result in a high number of negative user reviews, this could be a major dilemma.
The Science – Any?
We could not find any actual science to support the weight loss claims concerning MetaboLife Ultra. While we appreciate that this product contains minerals and natural ingredients, there is no proof that it aids with weight loss as claimed. At DietSpotlight, we prefer to see some documented scientific research that backs the product and its ingredients.
The Bottom Line: Does MetaboLife Ultra Work?
Now the moment you've been waiting for: our bottom line on MetaboLife Ultra. First of all, it's good to see that MetaboLife Ultra is easy to find on dealer websites like Amazon and this supplement does contain some healthy minerals. However, we are a bit concerned about this product because it's not backed by any actual clinical research. Moreover, MetaboLife Ultra's side effects and the negative user reviews we found posted online make us leery of this diet formula.
If you'd like to get rid of more pounds, then we suggest you go for a product that is backed by plenty of encouraging user reviews, does not cause any harsh side effects and is supported by real clinical research.
Among the best products we've seen in 2015 is one called Leptigen. Its formula is a unique blend of four key ingredients, which have been proven in documented clinical research to help ignite metabolism and speed up fat loss. We can't pinpoint any complaints of harmful side effects and user reviews posted on the internet indicate people are seeing excellent results.
The makers of Leptigen are so sure about their product they're offering a Special Trial Offer, which is a positive sign.