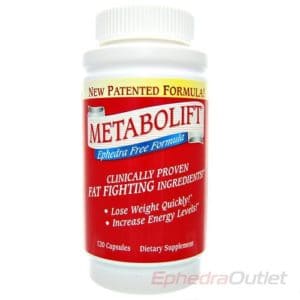 The results of my research into Metabolift were somewhat surprising. We took the time to create a comprehensive review, focusing intently on side effects, scientific studies, ingredients, and customer-service quality. Then we scrutinized user comments from around the internet. Finally, we condensed the data we gathered to give you the facts.
What is Metabolift?
First off, Metabolift is marketed as a weight-loss supplement that decreases appetite and stimulates metabolism. The ingredients include chromium, green tea extract, guarana leaf, yerba mate extract, acai extract, Japanese knotweed, bilberry extract, red wine extract, maltodextrin, and caffeine.
Metabolift is made by Twinlab Corporation. The company was established in 1968 and has its main headquarters in Hauppauge, New York. The company currently makes more than 500 health products, but read on…
Metabolift Side Effects– "Problematic"
The first issue we noticed were all of the stimulants used in the formulation of this product. According to our Research Editor, "When companies combine green tea, guarana leaf, caffeine, and yerba mate people it can be a warning sign. This many similar ingredients can make people feel a substantial energy boost that they may assume means it is increasing their metabolism when in fact it is only affecting their heart rate."
One aggravated dieter said, "I was so wired after taking this that I didn't sleep for like a week even taking it in the mornings. I finally had to stop just to get some sleep."
Another explained, "My heart started pounding not long after I took my first dose. It got worse and worse and I felt like I could hardly breathe. I was afraid to take it again."
Others really enjoyed the effect of the stimulants.
A pleased consumer noted, "I replaced my morning coffee with this so I saved money and lost weight."
While another chimed in with, "I always had enough energy to hit the gym after work which totally helped me lose the weight I needed."
Scroll below for one of the best products we've seen over the last year.
Availability– "Hard to Find"
The official website for the manufacturer no longer lists Metabolift for sale and it can be difficult to locate at third party retailers as well.
This exasperated individual complained, "I use to legit love this but now I can't find it."
Which was similar to the purchaser who grumbled, "I heard great things about this and managed to get one bottle but that isn't enough."
Not everyone was concerned.
There was the optimistic woman who mentioned, "I've used it before and had great results. I don't mind waiting until it is back in stock."
And the man who reported, "I know an online place that always has this so I go there. Great stuff."
According to our research, side effects that are problematic and too much effort to locate a product can quickly turn consumers off of a supplement. Based on some of the reviews we found, Metabolift may have a couple of problems in these areas.
The Science – "Some Tested Ingredients"
At DietSpotlight we always want to see scientific proof that a supplement has been thoroughly tested for safety and efficacy. While we do recognize some of the ingredients in this formula as being effective, we have no evidence that the amounts used in this product are sufficient to produce the desired results. However, we're relatively certain there's enough caffeine in the mix to get things moving, but so does two or three cups of coffee.
The Bottom Line – Does Metabolift Work?
Should I race out for a bottle of Metabolift? If you have tried this dietary supplement in the past and are a confirmed fan, you might want to get any available bottles you can find. However, the fact that the manufacturer doesn't promote or sell it anymore makes us hesitant to lend it our full support. Plus, we have to consider that this formula is nothing more than stimulants.
If you want to drop those extra pounds, why not try a supplement that has ingredients that are backed by scientific research. Look for a manufacturer who has full faith in their product and who is actively promoting and supporting it.
Among the best products we've seen in 2016 is one called Leptigen. The formula contains four active ingredients that have been clinically shown to help stimulate fat loss and maximize metabolism. Our research didn't turn up any negative reviews but we did see a lot of happy customers sharing their success stories.
The makers of Leptigen are so convinced of the efficacy of their product they're offering a Special Trial Offer, which we find comforting.