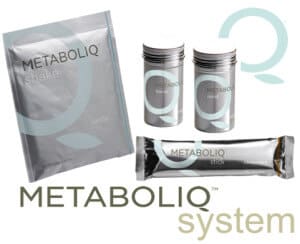 Guess what I did last week? You got it–I researched the Metaboliq weight-loss system. I had heard its name come up several times, so I had to see for myself. I delved into clinical studies, ingredients, customer satisfaction, and side effects. I didn't stop there–I then went from forum to forum, trying to dig up helpful user comments. Here is the condensed summary of my research.
What You Need To Know
To start, Metaboliq is a line of weight-loss products meant to either replace meals or act as a supplement to a program. The group includes shakes, bars, and supplements called Boost, Resist and Recharge. When taken either separately or in conjunction with each other, the different parts are supposed to boost metabolism, burn fat, and suppress appetite.
Metaboliq makes a profit by using the direct selling method, a fact that makes many customers feel like their health is a second priority–it can be frustrating to be asked to join the company constantly. We like the wide range of option and the emphasis on cutting down on calories is in line with weight-loss, but read on…
Our First Concern – "Are the Reports True?"
First, we were initially concerned by the complaints regarding the products' efficacy. "Of all the concerns I would have upon initial observation of Metaboliq, wondering if it actually works would certainly not be at the top of the list," said our Research Editor. "Even with such an extensive and costly line, customers really seemed to get a mixed bag of results."
"Went on Metaboliq, two shakes a day, for 90 days. Didn't lose a single ounce," said one disappointed user. "I'm taking the boost and I really don't feel a difference," said another. Sometimes users really just need to engage in healthy exercise and food choices rather than replacing meals with a shake.
Scroll below for one of the best products we've seen over the last year.
Our Second Concern – "Is the Price too High?"
Beyond the less-than-stellar results of Metaboliq, as reported in some reviews, consumers seemed to start catching on that it is a rather expensive program. "Very expensive, horrible aftertaste, and no different than any other shake along with a green tea supplement," said one user.
"I'm not sure how anyone can afford the recommended combinations of these products," said another. "One of these at a time costs enough for me!" "Shakes taste pretty good, but wow they're expensive," said a third reviewer.
Over the course of writing hundreds of reviews, we have come to be firm believers in the fact that flawed supplement programs don't translate into long-term results. In the case of Metaboliq, that could mean that the slow results will deter some users while the high price will dissuade others from using the combination as directed.
Is There Any Real Science?
Metaboliq does seem to have some scientific research under its belt, both for the individual ingredients used and for the product as a whole. There are some good concepts here, and replacing meals with a shake or a bar should cut down your calorie intake. But the price tag on the individual components and the mixed results delivered for that price don't seem to add up.
So What's the Bottom Line – Does Metaboliq Work?
Is it time to jump into this one? We thought Metaboliq was interesting at first since they offered a comprehensive list of supplements to cover the different aspects of weight-loss. The final decision is up to you, but we have some reservations and we're not necessarily convinced it is worth the investment. To get the best results, you have to commit to a package of very expensive supplements, and that just complicates things.
If you need to burn some fat, we recommend looking for an all-inclusive supplement that won't have you buying several different expensive products at the same time.
Among the best products we've seen in 2016 is one called Leptigen. It is a single supplement that combines four clinically studied ingredients in a proprietary blend. They could help burn fat and boost metabolism. User reviews look great and results are amazing.
As a sign of confidence in their product, the makers of Leptigen are even offering a Special Trial Offer.