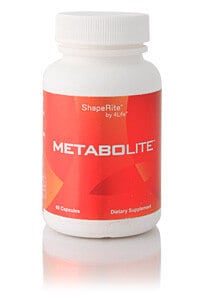 Kelp supplements have been riding the latest wave of dietary enthusiasm, so we decided to take a look. We checked out one of the more well-known in this category, Metabolite, and researched the ingredients, side effects, customer service and clinical study. Then we read through all of the reviews we could find. Finally, we condensed and summarized to give you the bottom line.
EDITOR'S TIP:
Click here
to substitute MetaboLite with a proven fat burner such as Leptigen for better results.
What You Need to Know
First off, Metabolite is a pill that you take once per day with water. The usage information is certainly more simple than the ingredients list that includes bladderwrack, red wheat seed bran, Hawaiian spirulina, sage leaf, buckthorn bark extract, papaya fruit, pineapple fruit, artichoke, gelatin, xanthan gum, locust bean gum and rice bran. Metabolite claims to promote healthy thyroid function, thus supporting weight-loss.
This particular supplement is made by 4Life Research based in Utah. 4Life, which utilizes a pyramid sales structure, has been around since 1998. You can find Metabolite online in places like Amazon, but the only official online seller, the official website. A two-month supply will cost you about $25. 4Life seems like a legitimate company selling a beneficial product, but read on…
Claims — "Verified by Whom?"
Our first concern with Metabolite ingredients is the list of promists it makes. "The website says that the primary function is weight management," according to our Research Editor. "Yet there is no clinical support to back up the role of iodine in weight-loss. If the primary goal of Metabolite is based on unverified information, I have some concerns."
"One long-term study in Sweden found that a kelp supplement did not help obese women lose weight." said the British Nutrition Foundation on a Daily Mail article.
The Medical Research Council echoed the same sentiment: "But there is currently no clear evidence that taking more iodine boosts metabolism," as quoted by the Daily Mail.
Scroll below for one of the best products we've seen over the last year.
Thyroid Concerns – "Another Issue"
Strangely enough, iodine can hurt the very gland it seeks to support, the thyroid. Too much can lead to a condition called hyperthyroidism, which is the same as saying the organ is overactive. We don't really have to worry about deficiency in our diet in the US, so a supplement based on providing more may actually pose a bigger threat than a benefit.
Around the world, iodine deficiency is a real concern. There are many places where a supplement like Metabolite would do a lot of good, but North America isn't really one of those places. Our diet provides all we need, so adding more is not necessary.
Furthermore, anyone with even a moderate thyroid condition would be putting themselves at risk by consuming a supplement like Metabolite. Pregnant women and those who are nursing a baby should avoid a sudden iodine increase as well.
Our research shows that a product with just one or two concerns (lack of proof, thyroid side effects) has a pretty low chance of long-term success. If Metabolite really is making claims that aren't backed up by evidence, users should look elsewhere for a more reliable supplement.
The Science – "Legit?"
While the 4Life website does an awful lot of talking about "science," Metabolite itself isn't represented in any scientific studies. As we mentioned before, iodine hasn't actually helped obese people lose weight and these supplements aren't even guaranteed to boost metabolism. While a person suffering from deficiency would certainly benefit from a pill like this, a user simply looking to lose more would be disappointed.
The Bottom Line – Does Metabolite Work?
So, what did we come up with this time around? The claims made by Metabolite seemed to carry some weight at first. The company has been running for almost 20 years and the website is functional and up-to-date. That's why we were surprised by the lack of credibility Metabolite has to offer. We don't feel comfortable recommending a product without any clinical research to its credit. One that could potentially lead to hyperthyroidism.
If you are ready to shed those extra pounds, look instead for a supplement that bases its claims on verified research and ingredients that you know will help. There are far too many available right now that have neither.
Among the best products we've seen in 2015 is one called Leptigen. It has two of the qualities we've mentioned, clinical research and proven benefits, and we can't find word of any side effects. Its four ingredients have been shown to help boost metabolism and burn fat and the user comments online look great.
Another good sign for would-be Leptigen buyers is that the makers of Leptigen are providing a Special Trial Offer.