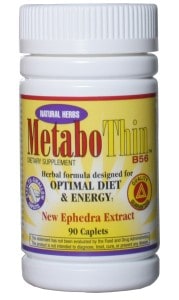 Give me just a couple minutes of your time and I'll tell you whether or not Metabothin is worth your time. We took the ingredients, possible side effects, research and customer service into consideration. We also read through hundreds of reviews to see what real experiences were out there. Finally, we condensed it all to give you the bottom line.
What You Need to Know
To begin with, the makers of Metabothin claim it is all natural, and this is technically true. The ingredients are Ephedra Extract (from Ma Huang), Caffeine (comes from Guarana Extract), Bee Pollen, Ginseng, Dextrose, Acacia Rigidula Extract (leaves), Citrus Aurantium, Eleutherococcus Senticosus Root, Lecithin, Ginger Root, Sarsparilla Root, Damania Leaf, Bovine Complex, Nettle Leaf, Goldenseal Spirulina, Gotu Kola, Theobroma Cocoa Extract (seed), Yohimbe Extract (bark), Green Tea Extract (leaves), Phenylethylamine HCL, and Royal Jelly.
The supplement can be bought directly from the makers, American Generic Labs for about $50 per one month supply. The two main active ingredients are ephedra and caffeine, which do have weight-loss applications, but read on…
Banned Ingredient – "Legal or Not?"
The main concern with Metabothin is that it uses ephedra. While this was proven to be effective in supporting weight-loss, it was also proven to be remarkably dangerous. Responsible manufacturers can't, won't, and shouldn't be using this.
Our Research Editor put it like this, "What kind of company is willing to use a substance that has been banned by the FDA due to safety concerns?"
Scroll below for one of the best products we've seen over the last year.
No Guarantees – "No Money Back for You"
We like to see products that offer guarantees if the supplement doesn't perform as advertised. Typically, this means we want companies to be willing to give consumer's money back if they don't lose weight. With the ingredients found in Metabothin, we would also like some sort of safety guarantee. Neither, is available.
Our research does indicate a connection between small issues, like no guarantee, and a lesser chance of results. If Metabothin claims aren't backed by the company, why would the dieter take the chance?
The Science – "Real Proof Out There?"
The makers of Metabothin rely on the well known ingredient ephedra to draw consumers in. There are no scientific studies provided that prove the effectiveness of or safety of the product. However, we do know the stimulants will boost metabolism and increase energy, but the main one is not legal for use in diet products and that's a huge concern.
The Bottom Line – Does Metabothin Work?
Are we going to take a chance on Metabothin? Due to the use of a banned substance as the main ingredient we have strong reservations about recommending this product. The FDA has said it isn't safe and that's enough for us.
Even if you are desperate to lose weight, your health is of utmost concern. We want our readers to achieve their weight-loss goals, safely. Because of this we recommend only considering products that use ingredients that are clinically tested and shown to work without harmful side effects.
Among the best products we've seen in 2016 is Leptigen. It was developed with clinically tested ingredients that help promote weight-loss. Throughout our research we have found no reviews claiming harmful side effects, a good indication that they are in fact providing the results they advertise.
The manufacturers of Leptigen are so sure their product will satisfy dieters that new customers can receive Special Trial Offer, which is both exciting and reassuring.