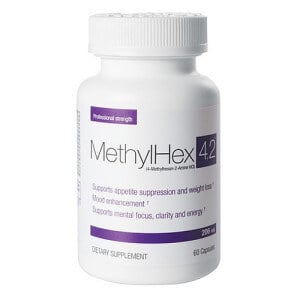 My love of diet products is bested only by my passion for reviewing them 🙂 We've heard a lot of talk about MethylHex 4,2, so we did one of our comprehensive reviews, looking closely at the formula, side effects, scientific research and quality of customer service. Plus, we read hundreds of testimonials from all over the internet. Then, we summarized and condensed it all to give you the info you need to know.
What You Need to Know
Firstly, MethylHex 4,2 is an over-the-counter supplement marketed as a fat burner. It contains a mixture of caffeine, DMAA, green tea and other ingredients. One benefit is it's easy to take.
The product was introduced before 2012. At a price of $59.99 per bottle, which will last a month, it's a relatively affordable weight-loss supplement. We do like the price and some of the positive comments we've seen around the web, but read on…
FDA Warnings – "Main Ingredient Problems?"
The first concern with MethylHex 4,2 is the FDA ban on the main ingredient, DMAA, and the resulting lawsuit. "It is unknown whether the DMMA came from the geranium oil as the manufacturer claimed or if it is a synthetic," explains our Research Editor.  The FDA issued a warning letter in 2012 about DMAA and it is no longer allowed to be used in dietary supplements.
According to the FDA, "DMAA, especially in combination with other ingredients such as caffeine, can be a health risk to consumers."
The government office goes on to warn, "Ingestion of DMAA can elevate blood pressure and lead to cardiovascular problems ranging from shortness of breath and tightening in the chest to [other cardiovascular issues]."
"I would stay far away from this product, personally I feel it is dangerous. I used it yesterday, and you do feel as if you can workout forever, the down side is a rapid acceleration in your heart rate." said one user.
Scroll below for one of the best products we've seen over the last year.
Does Not Use Clinically Proven Dose of Ingredients – "Another Concern"
Based on the fact that a dose of the formula is 206 mg and the effective dose of caffeine alone is 100-300 mg, it is highly unlikely the it could contain enough of the other ingredients to produce effective results.
One dieter claims, "I needed a little boost and bought it…man I was wrong. Not appetite suppressant like it used to."
Our research indicates that if there's part of a diet program that's difficult, like side effects, it can be hard to stick with over the long term. If MethylHex 4,2 causes adverse reactions, or if it is ineffective, it could lead to a number of problems for users.
The Science – "Any Proof?"
While MethylHex 4,2 doesn't have any official science to support it, there is plenty of research to indicate the original formula may be harmful and you may be advised to steer clear of the product. With the FDA warning to consumers, there was enough evidence to suggest the potential for serious harm to consumers who use this and any other containing DMAA. For us at DietSpotlight, it's critical while reviewing a supplement to find the  published clinical backing not only the effectiveness, but the safety of our we recommendations. With MethylHex 4,2 that's just not available.
The Bottom Line – Does MethylHex 4,2 Work?
Well now, we were initially excited to review MethylHex 4,2, because we liked what we had heard about the product before the FDA warning was issued. While we know the formula has been reworked to remove the offending DMAA, we are hesitant about recommending it because of the lack of information available on the safety and effectiveness. Plus, we're concerned about the lack of positive customer reviews and the fact that the original manufacturer disappeared. We see it carried online, but we're not sure which company is producing it at this point.
If you'd like to slim down, we recommend choosing a supplement that delivers value for the money and uses a safe formula with ingredients supported by clinical research.
Among the best products we've seen in 2016 is one called Leptigen. It's a blend of four ingredients that are supported by scientific research. Published clinical studies shows these the formula help with faster fat loss and increased metabolism. Looking around the web, we've been unable find negative comments or anything about harmful side effects, which tells us people are seeing impressive results.
We're delighted to see the makers of Leptigen are so confident in their product they're giving new customers a Special Trial Offer, which we like to see.