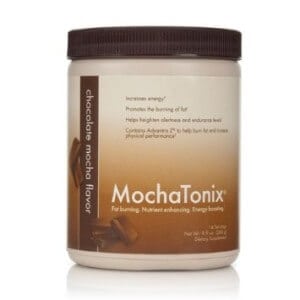 I need to make a confession: I was obsessed with researching Mochatonix. So, we at DietSpotlight took the time to create an in-depth review of the side effects, ingredients, customer service and clinical studies. Plus we read dozens of user comments from all over the web. Then, we summed up all of the facts and feedback to give you the information you really need.
What You Need To Know
To begin, Mochatonix is a powder supplement made by Isotonix. You add one scoop to a glass of water, blend well and drink. It is intended to help increase energy levels, promote fat burning, heighten alertness and increase overall physical performance. As for the ingredients, they include advantra z (citrus aurantium), guarana, green tea extract, yerba mate, l-phenylalanine, acetyl-l-carnitine, Korean ginseng, American ginseng, ginkgo biloba, vitamin c, b vitamins, taurine and several other vitamins and minerals.
From what we could gather, Mochatonix has been available since at least 2012, and it comes in flavors such as chocolate mocha, vanilla and cappuccino. This supplement can be purchased via dealer websites like Amazon for $38.95 (14 servings), and it may help promote overall health/wellness, but read on…
Unpleasant Taste – "Can You Handle It?"
The first concern we had with Mochatonix ingredients is the taste. "After reading a number of customer reviews, it is clear that many people do not like the flavor. Some users have complained about the artificial sweeteners it contains," says our Research Editor.
"I felt like there was a medicine taste hidden in the chocolate. I didn't care for it at all. I would definitely sample it before purchasing an entire canister," commented one customer.
"I couldn't get past the taste of fake sugar. Yuck," said another user.
Scroll below for one of the best products we've seen over the last year.
Side Effects – "Another Concern"
Some users have experienced Mochatonix side effects. This could be due to the numerous stimulants in this drink. One person stated, "Within a couple of minuets of drinking it I became very shaky, jittery, dizzy, sick to my stomach, and felt very buzzed."
"Makes me very jittery and nauseous. Won't drink it a second time," said another user.
According to our research, if there's something small, like side effects, it could stop you from reaching long-term results. If Mochatonix leaves you feeling off, that's a bad thing.
The Science – "Solid?"
For us at DietSpotlight, we prefer to see some documented research that supports a weight-loss product. We could not find any clinical studies that back up Mochatonix and its marketing claims. While "science" is mentioned on the website, studies are not presented to support it.
The Bottom Line – Does Mochatonix Work?
Are we running out for some Mochatonix? Well, we like that this diet drink is available in three different flavors and it certainly provides some vitamins and minerals. On the other hand, we have some reservations because it's not backed by any solid science and it contains a lot of stimulants. Also, we're worried about the poor taste.
If you'd like to drop more weight, we suggest you to go with a product that does not taste unpleasant or lead to any harmful side effects. The ingredients should be backed by science.
Among the best products we've seen in 2016 is one called Leptigen. This supplement offers a proprietary blend of four key ingredients, which have been proven in published scientific research to help accelerate fat loss and ignite metabolism. Furthermore, we can't find any talk of harmful side effects and user feedback posted online indicates people are seeing great results.
The makers of Leptigen are so sure about their product they're offering a Special Trial Offer, which is a positive sign.