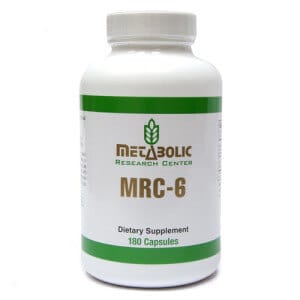 With the recent buzz about MRC 6, we decided to conduct a more thorough review to see if the product is what it claims to be. We looked closely at the side effects, ingredients, customer service quality and scientific research. We read every single one of the experiences we found. Then, we collected it all and condensed to give you the bottom line.
What is MRC 6?
First off, MRC 6's is a weight-loss support supplement that contains kelp, lecithin, apple cider vinegar, blue green algae and bromelain. It's supposed to breakdown fat, suppress appetite and help you reach your goals. You take two capsules before each meal. There are no stimulants so it will not interfere with sleep.
MRC 6 is manufactured by Metabolic Research Center. You must purchase the supplement directly from one of 43 locations nationwide, as it is not available for sale on their official website. We like that the company has been around for 25 years, but read on…
Buyer Beware – "Ineffective Ingredients"
Our first issue is that MRC 6 ingredients have absolutely no connection with weight-loss. No matter how enticing the claims, if the formula is not backed by real science and customer support, there's no reason to think it will actually work.
"We tend to be cautious when it comes to supplements that don't use effective ingredients," said our Research Editor.
Scroll below for one of the best products we've seen over the last year.
Side Effects – "Not Worth It?"
Even though the formula appears to be all-natural, many users report experiencing negative MRC 6 side effects. Some users even talked about an allergic reaction.
"After going to my doctor, I found my hormones were messed up. My thyroid & adrenal glands stopped working correctly and my progesterone was low. I thought it was just me but I've talked to several women who have developed the same type problems after going to MRC," said a user.
Our research shows that if something has small problems, like a side effect here or there, users just aren't going to keep using it or achieve lasting results. If MRC 6 is burdened with issues like this, that's a negative for the dieter.
The Science – "Any Support Provided?"
MRC 6 doesn't provide any links to published clinical research. If you look through studies, you won't find a clear connection between any of the ingredients and weight-loss. Here at DietSpotlight, that proof is necessary and this supplement doesn't provide any.
The Bottom Line – Does MRC 6 Work?
Did we make a final decision on this one? When it comes to supplements, there are a wide variety available on the market today. Unfortunately for MRC-6 , we can't find a reason to suggest this one over others on the market with ingredients that have been clinically studied.
If you're looking to lose a few pounds, we recommend combining a healthy, balanced diet and exercise routine with a clinically tested weight-loss supplement designed to increase metabolism and suppress the appetite.
Among the best products we've seen in 2016 is Leptigen. It contains clinically tested ingredients to help the body boost energy and metabolism naturally. When we researched, we found no negative mentions of the supplement, and saw that many users reported success with it.
The makers of Leptigen are so certain their product works, they're providing new customers with a Special Trial Offer, which we love to see.