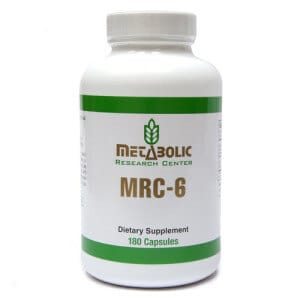 With the recent buzz about MRC 6, we decided to conduct a more thorough review to see if the product is what it claims to be. We looked closely at the product itself, the company behind it, the science, and user reviews. To make it easier for you, we summarized and condensed it all.
EDITOR'S TIP:
Combine MRC-6 with a proven testosterone booster such as
Pronabolin
for better results.
What You Need to Know
First off, MRC 6's ingredients are not listed on the website, so we're not exactly sure what is is in the formula, but we know it does contain vitamin B6, and a chemical the liver naturally produces – lecithin.
MRC 6 is manufactured by Metabolic Research Center. You must purchase the supplement directly from one of 43 locations nationwide, as it is not available for sale on their official website. We like that the company has been around for 25 years, but read on…
"Buyer Beware" – Unknown Ingredients
We don't know what ingredients are in the formula, beyond the two they tell us about on the website. This is risky, as you don't know what you're getting yourself into. But, since you have to purchase it in person at a center, you could easily address concerns about ingredients with the staff.
"We tend to be cautious when it comes to supplements that don't disclose ingredient information. Even if it's a proprietary blend, they can still release what ingredients are in the formula." said our Research Editor.
"The program is labeled as all natural, however, the MANDATORY HNS drinks contain sucralose, a potentially harmful artificial sweetener. Buyer beware!!" said one user.
Scroll below for one of the best products we've seen over the last year.
Side Effects – Not Worth It?
Even though the formula appears to be all-natural, many users report experiencing negative side effects. Some users reported an allergic reaction, while others said they experienced issues with processing proteins as a result of using the supplements.
"After going to my doctor, I found my hormones were messed up. My thyroid & adrenal glands stopped working correctly and my progesterone was low. I thought it was just me but I've talked to several women who have developed the same type problems after going to MRC." , said another.
Another user said, "I ended up in the Hospital with what the doctors say my body was not processing the proteins I was very sick from all the supplements and they were more interested in giving me more supplements that watching my health.
Our research shows that if something has problems, like if it's too expensive and makes health problems worse, users just aren't going to maintain using it.
The Science
MRC 6 doesn't provide any links to published clinical research. Without a specific list of ingredients, it is hard to determine if there is science to support the ingredients.
The Bottom Line
When it comes to supplements, there are a wide variety available on the market today. Unfortunately for MRC-6 , we can't really speculate on how well it works, simply because there isn't any information about the formula's ingredients. You can buy vitamin B6 on its own, or find it in a number of multivitamin products.
If you're looking to lose a few pounds, we recommend combining a healthy, balanced diet and exercise routine with a clinically proven safe and effective weight loss supplement designed to increase metabolism and suppress the appetite..
Among the best products we've seen in 2016 is Pronabolin. It contains clinically proven safe and effective ingredients to help the body boost testosterone levels naturally. When we researched, we found no negative mentions of the supplement, and saw that many users reported success with it..
The makers of Pronabolin are so certain their product works, they're providing new customers with a multiple bottle discount, which we love to see.