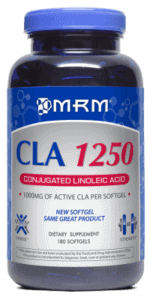 We're all searching for the right diet product. We dug deep and wrote an in-depth review. We put the spotlight on MRM CLA 1250 side effects, ingredients, scientific research and level of customer service. Furthermore, we examined hundreds of dieter comments and forum posts. Then, we condensed and summarized to give you the info you need.
What is MRM CLA 1250?
First off, MRM CLA 1250 is a "high-potency" fat burner. The ingredients are conjugated linoleic acid from safflower oil, purified water, black carrot powder, glycerin and gelatin. Supposedly it helps speed up fat loss, reduce fat storage and retain lean muscle tissue. The suggested serving is one/two capsules, three times per day.
MRM CLA 1250 was released in 2011 by Metabolic Research Modifiers. You can buy the product on the official website and through trusted retailers. We like that it provides antioxidant protection and that we found some positive customer comments, but read on…
Weight-Loss – "Lack of Real Results?"
The first thing that came up with MRM CLA 1250 ingredients was the fact that they may not work as claimed. "After doing some research on CLA, it's clear that it has not been proven to promote weight-loss," says our Research Editor. "If that's the case, why is the dieter giving it a try?"
One customer revealed, "Does this product do anything? Doubtful. I did lose weight on my diet and exercise regimen. So can I chalk that up to these silly pills?"
Other MRM CLA 1250 reviews stated the opposite.
"Strength and endurance baby. I sweat like an animal on this stuff and I like it," said a user.
Scroll below for one of the best products we've seen over the last year.
Customer Complaints – "Watch Out!"
We certainly noticed a lot of user complaints posted online regarding MRM CLA 1250. In fact, one customer said, "If I were you, I would NEVER try this product. Only after 2 hours of taking ONE pill, the sorbitol added into the pills gave me diarrhea w/ anal bleeding and tightness in my chest. I can't believe I wasted 17 dollars on this piece of crap."
"Did not notice any changes or anything at all after taking the whole bottle. Would cause me to have a slightly upset stomach after taking them but it was not enough to make me quit," claims another user.
While some users complained about MRM CLA 1250, we found more positive experiences online.
"CLA is really great to add for overall health and especially getting results regardless cutting or packing on size," reported a customer.
"Weight stayed about the same but definitely helped my abs to show a little bit more," offered another.
According to the research, if customer complaints are connected to any part of a supplement, long-term success could be reduced. If users have a negative perception of MEM CLA 1250, is it worth your money?
The Science – "Clinically Proven?"
At DietSpotlight, the review process relies on science and any connection to weight-loss. Regarding MRM CLA 1250, there's no research presented on the official website. This is unfortunate, considering conjugated linoleic acid has been shown to help with the fat burning process. Without a direct link to you losing weight or igniting fat loss, we start to have concerns.
The Bottom Line – Does MRM CLA 1250 Work?
Can MRM CLA 1250 help you lose weight? Well, we like that it contains natural ingredients and that we found some favorable customer comments, but the lack of research connecting it the weight-loss leaves us a bit concerned. Also, reviews pointing toward the lack of results and negative multiple customer complaints makes us hesitant about giving this one the green light.
You deserve a supplement with your best interests in mind, so we suggest going with a product containing ingredients that promote weight-loss, not connected to harmful side effects and supported by positive customer comments.
Among the best products we've seen in 2016 is one called Leptigen. This weight-loss pill contains four unique ingredients, which have been proven in published scientific research to help enhance fat loss and boost metabolism. Moreover, we did not find any complaints of harmful side effects and user feedback on the web expresses people are seeing significant results.
Also, the makers of Leptigen are so confident in their product they're offering a Special Trial Offer.