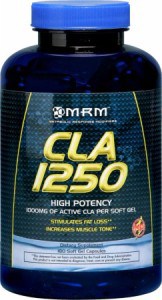 We're all searching for the right diet product, so we dug deep and wrote an intensive review, scrutinizing the side effects, ingredients, scientific research and level of customer service for MRM CLA 1250. Furthermore, we examined all kinds of dieter comments from all over the web. At last, we compressed all of the facts and feedback to give you the bottom line.
What You Need To Know
First off, MRM CLA 1250 is a daily supplement that can be used by women and men alike. This product contains CLA, which is taken from safflower oil. According to the bottle, it helps speed up fat loss and reduce fat storage. It may even help you retain lean muscle tissue. A single softgel actually contains 1,000 milligrams, so it's unclear why it is called MRM CLA 1250. It should be taken one to three times a day, but it is portable so that's not a problem.
MRM CLA 1250 was released back in 2011 and is easy to purchase on Amazon for $19.99. This diet supplement provides some antioxidant protection and you will find plenty of user feedback posted online, but read on…
Weight-Loss – "Lack of Real Results?"
The first thing that came up with MRM CLA 1250 ingredients was the fact that they may not work as claimed. "After doing some research on CLA, it's clear that it has not been proven to promote weight-loss," says our Research Editor. "If that's the case, why is the dieter giving it a try?"
One customer revealed, "Does this product do anything? Doubtful. I did lose weight on my diet and exercise regimen. So can I chalk that up to these silly pills?"
Another user stated, "Did not work, Big Joke!"
Scroll below for one of the best products we've seen over the last year.
Customer Complaints – "Watch Out!"
We certainly noticed a lot of user complaints posted online regarding MRM CLA 1250. In fact, one customer said, "If I were you, I would NEVER try this product. Only after 2 hours of taking ONE pill, the sorbitol added into the pills gave me diarrhea w/ anal bleeding and tightness in my chest. I can't believe I wasted 17 dollars on this piece of crap."
"Did not notice any changes or anything at all after taking the whole bottle. Would cause me to have a slightly upset stomach after taking them but it was not enough to make me quit," claims another user.
According to the research we've done, if there is one part of a diet product or weight-loss formula that is very burdensome (too many customer complaints, lack of real results, pills that cause side effects) the probability of substantial results for the long run is low. Therefore if MRM CLA 1250 does lead to numerous negative reactions, this could be a deal breaker.
The Science – "Clinically Proven?"
Here at DietSpotlight, we prefer to see real clinical trial evidence that supports the diet product or we simply can't get behind the weight-loss formula. From what we could gather, there is no solid science that backs MRM CLA 1250 as being effective. This supplement does not contain any proven fat-burners or appetite suppressants.
The Bottom Line – Does MRM CLA 1250 Work?
Let's take one last look at this one. It interested us to take a gander at MRM CLA 1250, but after a detailed review, we are skeptical about giving this one the green light. We couldn't help but notice that WebMD says CLA does not cause actual weight-loss or reduce BMI. You should also note that there are several customer complaints about the supplement not working as claimed. There are even reports of nasty side effects, which should not be taken lightly.
If you want to see faster weight-loss results, we advise you to try a diet product that contains ingredients that are backed by real science, but does not lead to any adverse effects. Customer support is also a step in the right direction.
Among the best products we've seen in 2016 is one called Leptigen. This weight-loss pill contains four unique ingredients, which have been proven in published scientific research to help enhance fat loss and boost metabolism. Moreover, we did not find any complaints of unpleasant side effects and user feedback on the web expresses people are seeing significant results.
Also, the makers of Leptigen are so confident in their product they're offering a Special Trial Offer, which is a good sign.