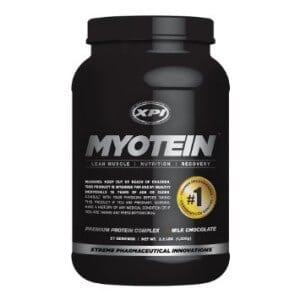 Why is it that so few diet products are backed by science? Let's find out if Myotein is one of the good ones. There has been plenty of buzz surrounding this protein powder, so we dug deep and created a comprehensive review, focusing closely on the side effects, ingredients, studies and overall customer service. Also, we took a look at hundreds of comments and experiences from the internet. At this point we compressed all of the facts to give you the information you need.
What You Need To Know
First off, Myotein is a protein powder made by XPI Supplements. The ingredients are whey protein isolate, whey protein concentrate, whey protein hydrolysate, micellar casein, colostrum, L-glutamine, aminogen, mucuna pruriens, hydroxyecdysterone and coleus forskohlii. This product is available in chocolate and vanilla flavors. It can be used to build lean muscle mass, recover more quickly after workouts and lose weight. To use this, you simply add one scoop to 8-12 ounces of cold water or milk. It is touted as a premium formula that provides six different types of protein.
Myotein has been available since 2011 and it sells online via stores like Amazon for $42.70. Each serving of this powder provides 26 grams of protein and no saturated fat, but read on…
Fat Price Tag – "Yikes?"
The first thing we feel is important with Myotein ingredients is the fact that the company wants you to spend an outrageous amount. "A container of Myotein only contains 27 servings, if you use this supplement twice a day, it will only last for about two weeks. Therefore you could end up spending around $85 per month, which is a lot of money for many dieters," says our Research Editor.
One customer said, "Pretty pricey when compared to other protein powders."
According to another user, "Who can afford this stuff?"
Scroll below for one of the best products we've seen over the last year.
Unpleasant Taste – "Uh Oh"
We quickly noticed that plenty of customers complained about the taste of Myotein. In fact, one user said this, "This was the worst protein that I've ever had . Don't buy it !!!"
"WORST TASTE IN THE WORLD!!! Also has barely any affects. It is a scam. Do not buy this. I'm warning you," said another customer.
According to our research, if there is a certain part of a weight-loss product or diet program that is seriously burdensome (unpleasant taste, steep price, pills that cause side effects) the likelihood of real fat loss for the long run is minimal. Therefore if Myotein is not easy to swallow, this could be a serious problem.
The Science – "Validated?"
While it's great to see that Myotein provides a significant amount of protein, there is no clinical evidence that links this supplement to weight reduction or fat loss. Since we at DietSpotlight need to see documentation of real science, we're not sure this one is worth a go.
The Bottom Line – Does Myotein Work?
Alrighty then, let's take a final look at this one, shall we? First of all, it's great to see that Myotein provides a hefty dose of protein to aid the muscles. On the other hand, we couldn't help but notice the dozens of customer complaints. Many are related to the taste, while others are due to the high cost. In these cases, it is hard for us to recommend the supplement because there's nothing connecting it to weight-loss.
If you really want to get started with serious fat loss, we encourage you to try a protein powder or diet supplement that is affordable, proven to assist with weight-loss and supported by plenty of positive customer reviews.
Among the best products we've seen in 2016 is one called Leptigen. This weight-loss supplement uses four unique ingredients, which have been proven in published clinical trial research to help encourage more fat loss and ignite metabolism. Furthermore, we have not been able to find any complaints of unpleasant side effects and customer comments on the web reveal people are seeing excellent results.
Also, the producers of Leptigen are confident enough in their product to offer a Special Trial Offer, which is a good sign.