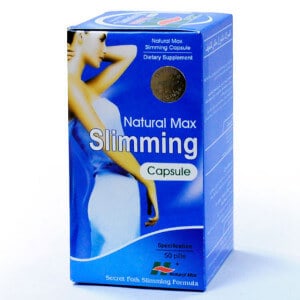 Diet products either work or they don't. Period. Let's find out which one Natural Max Slimming Capsule is. We did one of our comprehensive reviews, examining the side effects, ingredients, scientific studies and customer-service quality. Moreover, we read hundreds of dieter responses and user comments from around the web. Finally, we compressed the information we found to give you the bottom line.
EDITOR'S TIP:
Substitute Natural Max Slimming Capsule with a proven fat burner such as
Leptigen
for better results.
What You Need To Know
Natural Max Slimming Capsule is a weight loss pill that is based on Chinese herbal medicine. You need to take one capsule per day, before or after breakfast. This product claims to suppress appetite, reduce body fat, improve blood flow, reduce water retention and encourage more frequent bowel movements. The ingredients used in Natural Max Slimming Capsule include the following; Sweet Potato Fiber, Cyamoposis Gum, Konjac Root, Alfalfa, Tuckahoe, Lotus Leaf, Cassia Seed, Hawthorne Berry and Herba Laminareiae.
This diet product has been available since at least 2013. Natural Max Slimming Capsules can be purchased online for $18. This product is easy to take anywhere and it does contain some natural ingredients, but read on…
FDA Warning – Something to Consider?
According to our Research Editor, "Natural Max Slimming Capsule contains hidden drugs such as Sibutramine (a controlled substance that was pulled from the market in 2010), Sildenafil (treats erectile dysfunction) and Fluoxetine (treats depression and panic disorder). This is not something to be taken lightly."
One customer commented, "This diet pill is NOT SAFE! Trust me, do not take it!"
"Be careful with this slimming pill. It gave me serious diarrhea," said another user.
Scroll below for one of the best products we've seen over the last year.
Side Effects – Another Concern
We discovered dozens of user complaints regarding adverse effects caused by Natural Max Slimming Capsule. One customer stated, "This pill causes abdominal cramps and diarrhea!"
Another user said, "Experienced side effects, gas, diarrhea and major cramping."
Our research has proven if there is an individual facet of a diet pill or weight loss system that is especially burdensome and concerning (FDA warning, side effects, a difficult exercise) the probability of long-term weight loss success is low. So, if Natural Max Slimming Capsules do in fact cause unpleasant side effects in a lot of people, this could be a major deal breaker.
Backed by Science?
Unfortunately there is no real science or documented clinical studies that support the weight loss claims pertaining to Natural Max Slimming Capsules. Since we at DietSpotlight need to see published clinical research that backs the diet product and its ingredients, we cannot get behind this diet pill's claims. With this supplement, we only see a big red flag.
The Bottom Line: Does Natural Max Slimming Capsule Work?
Now the moment you've been waiting for: our bottom line on Natural Max Slimming Capsule. Well, we like Natural Max Slimming Capsule's natural ingredients and reasonable price. Then again, we have some concerns about this product because it's not backed by any science. Moreover, we are worried about the FDA warning and serious side effects.
If you'd like to drop more weight, then we recommend you try a diet product that does not cause side effects, is safe for daily use and is backed by real scientific studies.
Among the best products we've seen in 2015 is one called Leptigen. It contains a proprietary blend of four ingredients, which have been shown in documented clinical studies to help increase metabolism and enhance fat loss. You should also know that we can't find any talk of harmful adverse effects and dieter reviews around the web express people are seeing excellent results.
Also, the makers of Leptigen are so confident in their product they're offering a Special Trial Offer, which is a good sign.