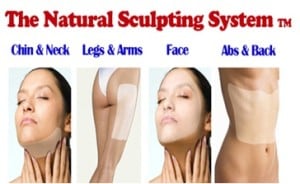 The results of my research into the Natural Sculpting System were somewhat surprising. We dug deep into the ingredients, side effects, clinical studies and customer service quality. Hundreds of comments were read and reviewed. Then, we gathered and condensed the facts to give you the info you need.
What You Need to Know
First off, Natural Sculpting System is a topical treatment for wrinkles and cellulite. You apply thin paper to problem areas. It can take up to 6 uses to see optimal results, according to product information. The kit is simple to use, a positive.
The product has a confusing history, so we're not sure where it originated. Purchases can be made online and it may be available at some salons. We like that the process is simple, but read on…
No Real Results – "An Issue?"
The first issue with Natural Sculpting System ingredients is that they are just not effective, according to users. "All you have to do is apply a thin layer of paper to the area you want to treat and voila, smoother, thinner looking skin," says our Research Editor. "These claims are a little over the top and consumer comments support that notion."
"I tried the system and followed their instructions to the letter. Not one tiny portion of an inch was lost. Don't waste your money," says one user.
Scroll below for one of the best products we've seen over the last year.
Confusing Product Information – "What's Up?"
When researching Natural Sculpting System, we found some pretty confusing information. The names Dr. Juan Garza and Patty Zimmerman come up quite often. The program was not created by either. The doctor was part of a study into the procedure and the other is just a representative selling the wraps. We then came across a third name, Suzanne Costa. She looks like another reseller, but we couldn't find a company behind the entire business.
According to Suzanne Costa, she was "introduced to the Natural Sculpting System by a friend who stumbled across these amazing spa products while visiting her family in Houston, Texas." We did find a Dr. Juan Garza in Texas. He is a family physician, not someone associated with skin health, nutrition or weight-loss processes of any kind.
In our research, something simple, like confusing product information, is enough to cut down chances of long-term success. If Natural Sculpting System has no verifiable manufacturer or creator, dieters should be wary.
The Science – "Clinically Supported?"
The only information on clinical research for Natural Sculpting System says it is "a product that began as a result of a two-year study on homeopathic and herbal remedies, this method of treatment is the easiest, least invasive, most comfortable and least costly non surgical liposuction process." At no point does this statement say it works, just that it is affordable and easy. At DietSpotlight, the science is quite important as we use it to decide whether or not to give our support. For this one, there's no real reason to give that thumb up.
The Bottom Line – Does the Natural Sculpting System Work?
What did our deep, detailed look into the Natural Sculpting System tell us? We like the ease of use and the fact that you can complete the wraps at home, but we don't feel comfortable recommending a procedure that's not backed by published clinical research. Plus, we're quite concerned by the fact that there's no founding company or manufacturer associated with the product and that means no customer service department.
If you want to lose some real weight, we suggest going with a supplement that's backed by published clinical research, strong customer results and a verifiable company behind the entire process.
Among the best products we've seen in 2016 is one called Leptigen. There are four ingredients in a proprietary blend that is clinically proven to help boost metabolism and speed up fat loss. Customers have reported no negative side effects, but they have commented often on seeing impressive results.
Plus, the company responsible for Leptigen is confident in the formula so they're offering a Special Trial Offer, a nice touch.