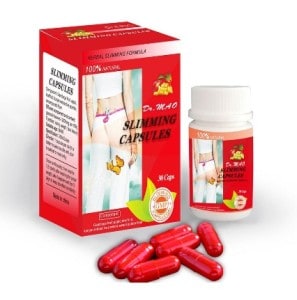 Lately there has been all sorts of talk about Natural Slimming Dr. Mao Slimming Capsules, so we did some extensive research and created a comprehensive review, focusing closely on the side effects, ingredients, scientific studies and overall customer service. Furthermore, we looked at dozens of user comments and dieter reviews posted online. At this point we compressed all the facts and feedback we found to give you the info you need.
EDITOR'S TIP:
Substitute Natural Slimming Dr. Mao Slimming Capsules with a proven fat burner such as
Leptigen
for better results.
What You Need To Know
Natural Slimming Dr. Mao Slimming Capsules contain the following ingredients; Bamboo Shoot, Xian Xian Cao, Mulberry Leaf Extract, Lotus Leaf, Jobsters, Artmisia Dracunculus and Psyllium Husk. This supplement only needs to be taken once per day (before or after breakfast). A single serving is 350 milligrams. The purpose of this diet pill is to suppress appetite all day long, increase fat loss and target fatty areas such as the stomach, upper arms, legs and waist. You can potentially shed up to 2-5 pounds per week.
This weight loss supplement was released in 2013 and can be purchased online for $18 (30 capsules). Some natural plant extracts are used in Natural Slimming Dr. Mao Slimming Capsules and no special diet or exercise plan is required with this product, but read on…
FDA Warning – Uh Oh!
According to our Research Editor, "There was a public FDA warning posted in 2013 that states Natural Slimming Dr. Mao Slimming Capsules contain a hidden drug ingredient. This ingredient is Sibutramine, which is a controlled substance that was pulled from the market back in 2010. Sibutramine can lead to high blood pressure and even more significant problems in people with heart conditions."
One customer stated, "These gave me intestinal pains. Did not like them."
"Abdominal discomfort and diarrhea. Not taking them again," said another user.
Scroll below for one of the best products we've seen in 2015.
No Real Science
We were unable to find any solid science that supports Natural Slimming Dr. Mao Slimming Capsules. Check out what this customer said, "Definitely not good for weight loss. More trips to the bathroom maybe, but not weight loss."
Another user commented, "Did not lose anything. Took these pills for one month."
The research we've conducted has shown if there is some certain facet of a weight loss product that is very troublesome (FDA warning, pills that make you jittery, no real science) the chances of prolonged success are not every good. This means if Natural Slimming Dr. Mao Slimming Capsules do fail to produce real weight loss results in a lot of people, this could be a deal breaker.
The Science
The official Aslimming website that sells Natural Slimming Dr. Mao Slimming Capsules does mention that the ingredients used are totally natural, which is good to see. However, there is no documentation of clinical studies or real science. Since we at DietSpotlight need to see published scientific research that backs up the weight loss claims, we cannot recommend this diet supplement.
The Bottom Line
Some dieters will like that Natural Slimming Dr. Mao Slimming Capsules only need to be taken once daily, which is convenient. But, you should not overlook the FDA warning that pertains to this diet pill. Furthermore, we did not see any potent ingredients in this supplement that aid with real fat loss.
Those who wish to get fit and drop serious fat, we advise you to select a diet formula that is supported by actual clinical research and does not have an FDA warning or negative customer reviews.
One of the most promising products we've seen in 2015 is Leptigen. This supplement offers a proprietary blend of four key ingredients, which have been shown in documented clinical studies to help increase overall fat loss and elevate metabolism. You should also be aware that we have not found any talk of unpleasant side effects and dieter feedback on the internet expresses people are seeing solid results.
Also, the makers of Leptigen are so confident in their product they're offering a Special Trial Offer, which is a good sign.