Updated: 09/29/2015 - Sponsored by Leptigen
Nature's Balance Review - Does This Supplement Line Work?
Are lack of information and ingredients deal breakers?
Editor
's Review:
2.8
/ 5.0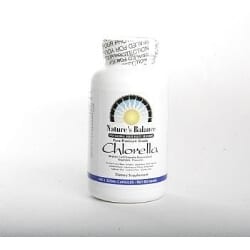 We've heard a great deal about the products from Nature's Balance. Since the company produces several products, we looked at a few different ones to learn more about their ingredients, whether there was any clinical research to support the products, and what people are saying about them online, so we could conduct a thorough review of their line to help you get the information you need.
EDITOR'S TIP:
Combine Nature's Balance with a proven fat burner such as
Leptigen
for better results.
What You Need to Know
First off, Nature's Balance is a full line of what they call "professional grade health solutions." Their products cover a wide range such as: detoxification, joint health, immune system support, and more. For the rest of this review, we've chosen to focus on the company's flagship product, Chlorella Pyrenoidosa. It contains an assortment of vitamins and minerals such as Vitamins A, and B1, B2, B6, B12, , chlorophyll, and vitamins C, E, and K, along with potassium and magnesium. The supplement is easy to take; since it's a capsule you can take it anytime, anywhere.
Nature's Balance was founded in 1992. The products use natural ingredients, which is a good sign since many synthetic ingredients may be harmful. The products are available from the company's official website as well as other online retailers. We like the company's longevity, and the high customer ratings, but read on…
No Full Ingredient Listing
Nature's Balance does not provide copies of the nutritional label for any of their supplements, so we don't really know exactly is what is in the formula.
"It's important to release a full list of ingredients to help customers address allergy concerns.", says our Research Editor.
"Something is wrong with this chlorella, I have taken other brands for years and this one makes me sick.", one user said.
"Incredible supplement for eradicating heavy metals from the body. ", says another.
Scroll below for one of the best products we've seen in 2015.
Confusing Doses – Could Become Costly
The official product website doesn't mention how many capsules to take every day. Another online retailer that sells the product suggests starting with 3 capsules a day, and and gradually adding an additional capsule per day until you reach the maximum dose of 9 capsules per day. At the price of $32.95 a bottle, the minimum dose means the bottle would last two months, making it affordable. But, at the maximum dose, it would last only 20 days, meaning you'd have to purchase two bottles to make it through a month. Though it's still moderately priced at that point, if more than one person was taking it, it could add up quickly and cost more than $100 a month.
Our research indicates that if any part of a weight loss program is hard, like needing to take 9 capsules a day to get the maximum benefit, it can be difficult to use for a long time.
The Science
Nature's Balance references multiple clinical studies on chlorella, but they are from the '50s, 60s, and the '70s. The studies mention nothing about how chlorella helps with weight loss. Though Nature's Balance has been in business for more than two decades, we were unable to find more than a P.O Box for the company based in North Carolina. While it's good to know we can contact them online, by phone, and by mail, but it would be good to know exactly where their manufacturing facility and corporate offices are located.
The Bottom Line
We like Nature Balance's longevity as a company and the positive comments we saw about it online, but we are unable to recommend it because we cannot be completely sure of the ingredients in the formula. Plus, while chlorella is a natural ingredient, it is more of a chelator which removes heavy metals from the body than a weight loss supplement.
If you'd like to shed a few pounds, we recommend choosing a supplement that does more than detoxify the body, with ingredients that have been proven to help with weight loss, energy, and metabolism.
One of the best products we've seen in 2015 is Leptigen. This product is a blend of four ingredients supported by clinical research. These ingredients are known to help burn fat and speed the metabolism. As we searched the Internet, we were not able to find negative comments or any discussion about side effects, which lets us know people are experiencing solid results.
The makers of Leptigen are so confident their product can help, they are giving a special trial offer, which we like to see.