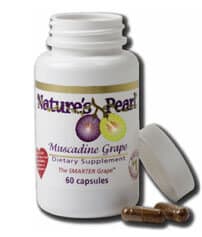 In the weeks that led to this review, I figured out whether Nature's Pearl actually works. Here at DietSpotlight, we did one of our in-depth reviews, closely scrutinizing the ingredients, side effects, customer care and scientific studies. Plus we read dozens of customer comments and user reviews that are posted online. At last, we summarized all the facts and details to give you the important information you need.
EDITOR'S TIP:
Combine Nature's Pearl with a proven fat burner such as
Leptigen
for better results.
What You Need To Know
Nature's Pearl is a brand that focuses on juices and supplements that aim to promote anti-aging and overall health. Muscadine Grapes are the primary ingredient used in these products. This fruit is rich in antioxidants (contains over 100), which help combat damaging free radicals that age the body and lead to health problems. Therefore Nature's Pearl supplements and juices are intended to help prevent cell oxidation, boost cardiovascular strength, promote joint health, elevate energy levels and slow down the aging process. Nature's Pearl Premium Muscadine Grape Seed capsules can be taken daily to assist with this. They are available for $34.99 (60 capsules).
Nature's Pearl has been around since 2006, and all of their products can be purchased through the website. This company has a good BBB rating and these products are rich in antioxidants, but read on…
FDA Investigation – Concerning?
"There was an FDA investigation into Nature's Pearl back in 2012. Put simply, Nature's Pearl has not been proven to treat or prevent cancer as customers are led to believe. Therefore these products may not actually prevent any health problems," says our Research Editor.
One customer stated, "This product does not seem to boost my immune system at all. Tastes like I got a bad batch as well."
Another user said, "This juice is not worth it! Just eat fruit to be healthier."
Scroll below for one of the best products we've seen over the last year.
Low Amazon Rating
We noticed that Nature's Pearl 100% Premium Muscadine Red Grape Juice received a 1.7 star rating on Amazon, which is pretty low. One customer said, "It tasted like rotten apples."
"Slightly muddy water would taste better," said another person.
We have done all sorts of research, and we have discovered that if there is some specific part of a supplement or diet program that is very difficult or concerning (FDA investigation, low Amazon Rating, high cost) the likelihood of lasting weight loss success is slim. This means if Nature's Pearl does disappoint a lot of customers and leads to low Amazon ratings, this could be a serious issue.
The Science – is it Solid?
There is some science presented on the official Nature's Pearl website regarding antioxidants and how they benefit the body. On the other hand, we did not find any clinical studies that pertain directly to Nature's Pearl supplements and juices. We at DietSpotlight need to see solid science that supports the product.
The Bottom Line: Does Nature's Pearl Work?
So, should you run out and buy Nature's Pearl? Well, we like Natures Pearl's longevity as a product and this company does have a good BBB rating. But we have some reservations about it because it's not backed by solid science. Also, we're concerned about the FDA investigation and low Amazon rating.
If you'd like to shed more pounds of fat, we encourage you to go with a product that is backed by plenty of positive user reviews and contains clinically proven ingredients that are supported by real science.
Among the best products we've seen in 2015 is one called Leptigen. This supplement has four key ingredients, which have been proven in published scientific research to help speed up fat loss and elevate metabolism. We can't find any complaints of harmful adverse effects and user comments posted online reveal people are seeing great results.
Also, the makers of Leptigen are so confident in their product they're offering a Special Trial Offer, which is a good sign.