Updated: 09/29/2015 - Sponsored by Leptigen
NatureWise Garcinia Cambogia Extract Review - Does This Fat Burner Work?
Are side effects and fad diet ingredient deal breakers?
PUBLISHED: 08/29/2015 | BY: SUMMER BANKS, SENIOR REVIEWER
Editor
's Review:
3.5
/ 5.0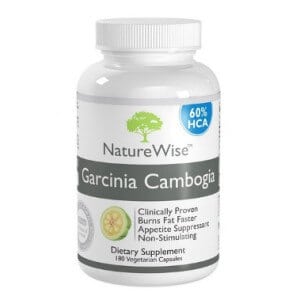 We've heard a lot of talk about Naturewise Garcinia Cambogia Extract, so we did one of our extensive reviews, looking closely at the ingredients, side effects, scientific research, and customer service quality. Plus, we read hundreds of user comments and reviews from all over web. Then, we summarized and condensed it all to give you the information you need..
EDITOR'S TIP:
Substitute NatureWise Garcinia Cambogia Extract with a proven fat burner such as
Leptigen
for better results.
What You Need to Know
First off, Naturewise Garcinia Cambogia Extract is a weight loss supplement, marketed as a fat burner. It contains garcinia cambogia, calcium, and potassium, in a vegetarian capsule. One benefit is you can take it any time, anywhere, as long as you have a full glass of water to take it with.
Naturewise was founded in 2003, and we like seeing companies with longevity because it increases credibility. At a price of $25.16 per bottle marked down from $54.95 on Amazon, it's a relatively affordable weight loss supplement. The standard dose of three capsules a day allows the supplement to last two months, but at the maximum dose of 9 capsules a day, the bottle will only last 20 days. Even still, at just over $50 a month for a month's supply at the max dose, it's affordable. It appears to only be available for sale at Amazon, as even the manufacturer's official website directs users there to purchase. We do like the price and some of the positive comments we've seen around the web, but read on…
Fad Supplement with No Real Clinical Backing
Garcinia Cambogia is one of those fad supplements, and while studies have been done, they haven't been published in highly regarded medical journals. And what's more is, a clinically proven dose has yet to be determined.
"While we like the fact that this supplement hasn't been diluted with a slew of other ingredients and it is natural, we believe it's important to stick to supplements that offer clinically proven doses of their active ingredients." said our Research Editor.
"The most I can say for this supplement is that it gave me a bit more energy. I did not lose any weight during the month I was taking it." said one user.
"I have been taking this product for a little over a month. Total weight loss is 1/2 pound, maybe. I followed the weight loss protocol diligently but to no avail., said another.
Scroll below for one of the best products we've seen in 2015.
Bothersome Side Effects
While many users reported no side effects with this supplement, many comments mentioned similar side effects, repeatedly. It seems to cause digestive upset constipation, painful acne, and anxiety/nervousness.
One user said, "After 3 bottles I am only a couple of pounds lighter, it didn't work for me after all, but it does suppress an appetite.
Another user said, "Here are some of the side affects I endured after taking 1 pill: loose stool, extreme nervousness, nauseousness, extreme energy, and extreme gas."
And a third user reported, "I started having severe panic attacks again, out of nowhere. I feel like a coiled spring, even at my calmest. It started interfering with my personal life, my work and my schooling."
Our research indicates that if there's part of a diet program that's hard to handle, like the need to stick to a schedule and take the supplement two hours before every meal,, it can be difficult to maintain regular use over time. If Naturewise Garcinia Cambogia Extract means multiple schedule disruptions, this can be problematic for busy users.
The Science
For us at DietSpotlight, it's critical while reviewing a product to find the science to support not only the effectiveness, but the safety of the products we recommend.
The Bottom Line
We were excited to review Naturewise Garcinia Cambogia Extract because we liked that it was natural and did not contain any fillers. The official website mentions that Garcinia Cambogia has been studied for its potential to decrease body fat and curb appetite, but does not provide the studies, or indicate where they have been published to allow customers to verify the information. For us at DietSpotlight, being able to find published scientific research about a product's ingredients supporting weight-loss claims is critical to our recommendation. If the science isn't there, we see red flags.
If you'd like to shed a few pounds, we suggest choosing a supplement that provides clinically proven ingredients known to support weight loss efforts, without the potential for harsh side effects.
We've reviewed thousands of products this year, and one of the best is Leptigen. A proprietary blend of four ingredients, all backed by clinical research, it is known for increasing metabolism and the rate at which fat is lost. As we scoured the web, we were unable to find anything about negative side effects. The comments all over the web tell us that people seem to be getting good results.
We're thrilled to see the makers of Leptigen are so confident in their product they're giving new customers a special trial offer, which is always a good sign.