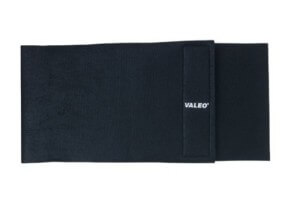 This review is what happened after I obsessed for weeks over the Neoprene Waist Trimmer. We took the time to create a detailed evaluation, examining the side effects, ingredients, scientific studies and level of customer service. We also took a close look at hundreds of dieter reviews and customer responses from all over the web. Finally, we compacted this information to give you the facts you need.
EDITOR'S TIP:
Combine Neoprene Waist Trimmer with a proven fat burner such as
Leptigen
for better results.
What You Need To Know
The Neoprene Waist Trimmer is a "fitness belt" that is claimed to help you develop core strength, improve balance, boost endurance levels, increase flexibility and slim down the tummy area. These belts are generally about eight inches wide and are adjustable to suit different body sizes. This trimmer belt is made from Neoprene so it locks in heat, which causes the midsection to sweat more during exercise. This in turn draws retained water weight from the core and tummy area. These belts are made by several different brands. One brand is Valeo, which sells the Neoprene Waist Trimmer for $9.99.
The Neoprene Waist Trimmer has been available since at least 2005, and it's easy to find these fitness belts online. The waist trimmer is typically washable and comes with a Velcro strap for a secure fit, but read on…
Customer Complaints – A Consideration?
According to our Research Editor, "There are all kinds of customer complaints concerning Neoprene Waist Trimmer, which are posted on distributor websites such as Amazon. This negative feedback is a red flag."
One user stated, "I bought it not too long ago and after 2 uses it ripped?? Please don't buy it…waste of money."
"Put the waist trimmer on once and when I removed it, the Velcro tore off the Neoprene, and the Neoprene also tore. Not a good product at all," said another customer.
Scroll below for one of the best products we've seen over the last year.
Lack of Real Results – A Serious Concern
There is no clinical proof that supports the Neoprene Waist Trimmer for weight loss. In fact, many customers have stated that this fitness belt does not live up to the hype. One user commented, "Does not work! Give me a Break. And it smells awful!"
Another customer said, "This belt does not burn off fat at all. You just sweat more."
Our research has shown if there is a certain facet of a fitness device or diet program that is quite problematic (a painful/difficult exercise routine, too many customer complaints, lack of real results) the probability of long-term success is very low. In other words, if the Neoprene Waist Trimmer does fail to produce weight loss results in numerous customers, this could be a deal breaker.
Any Solid Science?
Here at DietSpotlight, we like to see solid scientific research that supports the weight loss product we're reviewing. Sadly with the Neoprene Waist Trimmer, we could not pinpoint any real science or clinical trial results that support this fitness belt. Therefore it appears that the Neoprene Waist Trimmer is only backed by claims.
The Bottom Line: Does Neoprene Waist Trimmer Work?
So, should you buy Neoprene Waist Trimmer? Well, we appreciate that the Neoprene Waist Trimmer is easy to use and fits people of many sizes. On the other hand, we have some reservations about this product because it's not backed by any actual science. We're also concerned about the customer complaints and poor quality of these belts.
If you'd like to drop more pounds of fat, then we recommend you choose a product that is backed by real clinical research, gives you plenty of bang for your buck and is supported by positive customer feedback.
Among the best products we've seen in 2015 is one called Leptigen. Its formula is a unique blend of four key ingredients, which have been proven in documented scientific research to help accelerate metabolism and improve fat loss. We can't pinpoint any discussion of harmful side effects and dieter feedback around the web shows people are seeing substantial results.
Also, the makers of Leptigen are so confident in their product they're offering a Special Trial Offer, which is a good sign.