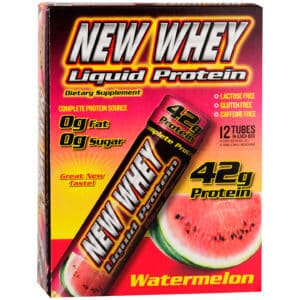 We've heard a lot of buzz about New Whey Liquid Protein. Therefore we did one of our in-depth reviews, looking closely at the side effects, ingredients, customer-service quality and scientific studies. We also sorted through countless user comments and remarks from around the web. At this point, we condensed all of the facts and specifics we found in order to give you the info you actually need.
What is New Whey Liquid Protein?
Firstly, New Whey Liquid Protein is what it says, a liquid source of protein. The ingredients include casein protein isolate, whey protein, water, sucralose, acesulfame potassium and collagen protein isolate. This product is basically a ready-to-drink protein supplement for on-the-go. It's free of fat, caffeine, sugar, lactose and gluten. You don't have to mix anything or use any water. You simply open the bottle and drink a single serving (3.8 fluid ounces). This formula is supposed to help reduce appetite, boost energy levels and aid with muscle building and repairs. It is mainly marketed at people who just had weight-loss surgery.
From what we gathered, New Whey Liquid Protein has been on the market since at least 2008. It is available in watermelon, raspberry, orange, fruit punch, grape and acai berry flavors. You can buy this supplement via online dealers such as Amazon. A dozen servings are provided in each carton/case, but read on…
Unpleasant Taste – "Can You Handle It?"
One concern we have is the unpleasant taste. According to our Research Editor, "Many customers have complained about the overall flavor and texture of New Whey Liquid Protein. Naturally this is concerning. After all, if you can't drink the product, it will not benefit you."
One user stated, "Odd taste. Couldn't even swallow this product. Tried holding my nose and just chugging. Tried even adding water. Nothing can take away the overly sweet taste. It's way too sweet."
On the other hand, a different customer said, "Not the best taste, but this drink gives you 42 grams of protein per serving."
Another posted, "Didn't like the flavor much, but the protein level is good."
Scroll below for one of the best products we've seen over the last year.
User Complaints – "Uh Oh"
Another issue is user complaints. In fact, one person reported, "Unfortunately this gives me diarrhea every time. It doesn't taste good at all. And it is super thick."
But, a different user had this to say, "Tastes a little odd, but very convenient."
"The fruit punch flavor is not bad. Just have to find one you can stand," revealed another.
Our research has revealed that if there is a particular aspect of a diet product or program that is especially problematic (unpleasant taste, user complaints, high cost) the likelihood of long-term success is minimal. So, if New Whey Liquid Protein does in fact taste bad to a lot of people, this could be a deal breaker.
The Science – "Is Any Presented?"
First of all, New Whey Liquid Protein does contain a high level of protein to help curb appetite and repair muscles. This is a plus. On the other hand, this product does not contain any key ingredients to promote fat loss. Also, some people clearly can't handle the taste of this supplement.
The Bottom Line – Does New Whey Liquid Protein Work?
Now the moment you've been waiting for. This is our bottom line on this protein drink. To start, we like that no one mentioned any severe New Whey Liquid Protein side effects. It's also nice to see that several flavors are available. Then again, we have some doubts about this product because it's not backed by any real science when it comes to fat loss. Also, we're concerned about the less-than-savory taste that some customers have mentioned.
If you really want to shed some pounds, then we recommend you go with a product that contains clinically tested ingredients for weight-loss, does not have an unpleasant taste and is backed by many user testimonials.
Among the best products we've seen in 2016 is one called Leptigen. This potent formula uses a blend of four ingredients, some of which are clinically tested and have been shown to help accelerate fat loss and elevate metabolism. We can't pinpoint any negative user reviews, and comments around the web indicate people are seeing solid results.
The makers of Leptigen are so certain of their product they're offering a Special Trial Offer, which is a good sign.