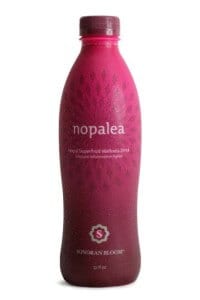 There has been plenty of buzz about Nopalea lately, so we did one of our in-depth reviews, focusing closely on the ingredients, side effects, scientific research and level of customer service. We also spent hours reading through countless user comments and posts from all over the web. Finally, we compressed all of the facts and responses we collected to give you the important info you need.
EDITOR'S TIP:
Click here
to combine Nopalea with a proven fat burner such as Leptigen for better results.
What is Nopalea?
To begin, Nopalea is marketed as the "nutrient-rich drink from the Sonoran Desert." This beverage is made by TriVita, and it is available directly from the official website. The purpose of this "wellness" drink is to help boost immune system health and reduce harmful inflammation in the body. This in turn is supposed to prevent illness and improve overall wellness. In order to use it, you simply need to drink 3-6 ounces per day. This product can be added to water or your favorite beverage. The core ingredient is Nopal, which is Prickly Pear Cactus (contains Bioflavonoids that provide antioxidant protection). We found no real connection with weight-loss.
Nopalea has been available since at least 2010, and this product contains various natural fruit juices. It provides some vitamins and minerals, and does not contain any preservatives, colors or artificial sweeteners, but read on…
High Price – "A Consideration?"
The first concern we had with Nopalea ingredients was the steep price tag. "If you drink only three ounces per day, a bottle will only last you about 10 days, which is $39.99," says our Research Editor. "That is quite pricey."
"First, the price is insane. You are paying $8 for a small glass of mixed juice," said one person.
"This stuff is so expensive. It is maybe a 5-day supply at most. Even if it did work, it is a total ripoff," commented another individual.
Scroll below for one of the best products we've seen over the last year.
Lack of Real Results!
Some customers have complained of no real results from Nopalea. One user stated, "Didn't see any improvement after using this product." Another person revealed, "A complete waste of your hard-earned dollars. There is no label stating how much of the actual ingredient exists in the bottle. Definitely watered down. Another SCAM."
Yet another customer said, "I have not seen any reduction in joint pain or inflammation. It's not worth the money."
According to our research, if there is some specific part of a supplement or health product that is quite concerning or burdensome (high price, lack of real results, low Amazon rating) the real chances of long-term success are not good. In other words, if Nopalea does fail to yield good outcomes in a lot of people, this could be problematic.
What About Solid Science?
Unfortunately we could not locate any solid science that backs up the health claims pertaining to Nopalea. This is too bad, because we at DietSpotlight need to see some real scientific proof that the product works as claimed before we can get behind it.
The Bottom Line – Does Nopalea Work?
So, should you run out and buy Nopalea? First off, we appreciate that it contains natural fruit juices and it provides some vitamins and antioxidants to potentially boost immune system health. On the other hand, we have some doubts because it does not appear to be supported by any solid science or clinical studies, so we can't see a clear connection with weight-loss. Also, we're concerned about the high cost of this wellness drink.
If you're interested in losing some weight, then we advise you to choose a product that is backed by solid science, sells at an affordable price and is also supported by plenty of positive and encouraging customer reviews.
Among the best products we've seen in 2016 is one called Leptigen. It contains a unique blend of four powerful ingredients that have been shown in published clinical studies to help accelerate metabolism and increase fat loss. We at DietSpotlight can't find any complaints about harmful side effects and customer feedback on the internet shows people are seeing solid results.
The makers of Leptigen are so certain of their product they're offering a Special Trial Offer, which is a good sign.